Are there different types of fall protection harnesses based on the application or are they all the same?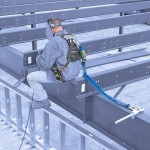 Fall protection equipment, and specifically, harnesses, have benefited from tremendous advances in technology in recent years. Materials now available allow us to offer a large variety of harnesses, including those with thermal protection for welders and iron workers that ensure harness integrity should spark or welding spat fly onto them.
There are also many harnesses, such as the Tower Climbers, which are designed for a specific application or purpose. They are modified to contain different equipment, D-rings, and tool storage in different places to coordinate with the demands of the application. Harnesses nowadays are very specific in their function and fit.
View All FAQs.