Unprotected Roof Hatches Are An Accident Waiting To Happen
OSHA Requires Roof Hatch Systems Installation To Include Safety Railings and Swing Gates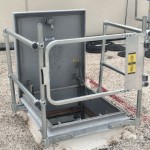 Without roof hatch systems on roof hatches of any size, such as safety railing systems or guardrails as a means of fall protection, they are one of the most common sources of worker injuries. Translation: They are an accident waiting to happen. Workers often prefer to leave them open, especially when they are moving equipment or building materials up and down through the hatch from the floors below. Unfortunately, workers can sustain serious injuries if they slip or trip and fall in, or step backwards into it without looking.
OSHA 29 CFR 1910.23 states, "Every ladder-way, floor opening, or platform shall be guarded by a standard railing with standard toe board on all exposed sides (except at the entrance to an opening), with the passage through the railing either provided with a swinging gate or so offset that a person cannot walk directly into an opening."
---
A Variety of Solutions To Choose From To Perfectly Align With Your Needs
FallProof has three distinct types of roof hatches that will provide the needed fall protection for your workers:
Permanent Roof Hatch Systems – We can install permanent, non-penetrating guardrails around roof hatches of any size, including large hatches with double-cover openings that may be used to bring heavy equipment up to the roof via a hoist or elevator. Our manufacturers have engineered pre-assembled systems that fit all standard and most custom opening sizes. Assembly in the factory reduces cost, simplifies installation by saving time on the rooftop, and is generally more durable than a system assembled on site.In permanent solutions, railing is installed around the base of the hatch, so it is flush with the roof but does not penetrate it. All of FallProof's solutions are safety rated to withstand the impact and stop the fall of a worker up to 200 lbs. The railing also provides a grab bar to assist workers for safe ingress or egress as they enter or exit the opening.


---
Temporary Roof Hatch Railing Systems – We also offer temporary guardrail solutions, which can be set up in minutes around roof hatches of any size. With temporary solutions, modular units are joined together to provide one continuous guardrail that surrounds the entire hatch on all sides.


---
Swing Gates and Toe Boards – All of our permanent roof hatch guardrails feature swing gates that automatically close each time a worker walks through them. We can also install non-penetrating toe boards around them to keep tools and debris from being kicked down into the opening and injuring workers below. Even if your rooftop hatch already has a permanent guardrail surrounding it, you might want to consider installing a swing gate over the opening. On many older roof hatch guardrails, the opening is protected by a safety chain. Safety chains are now considered unsafe, and are a violation of OSHA regulations.A safety chain across the opening is not sufficient to handle the weight of a falling worker. A worker who trips and falls against a safety chain will probably break through and continue falling through it. Installing a swing gate on the guardrail opening helps to ensure worker safety and eliminates the potential fall hazard.
---
The following are a few examples of how these products and systems are put into practice::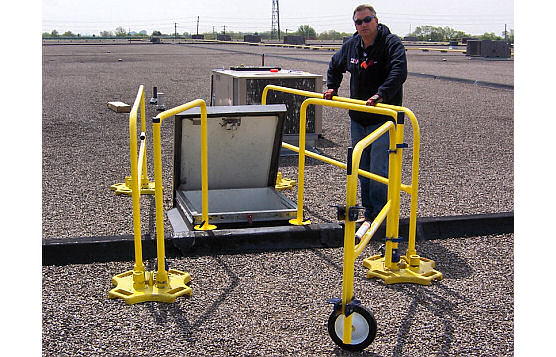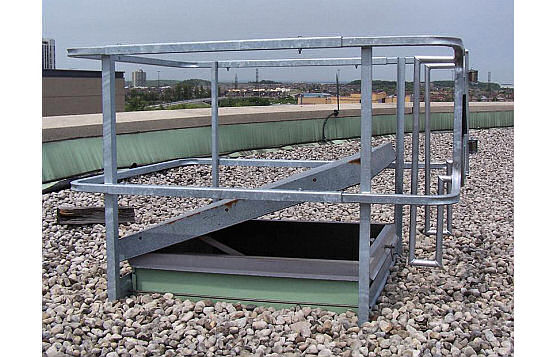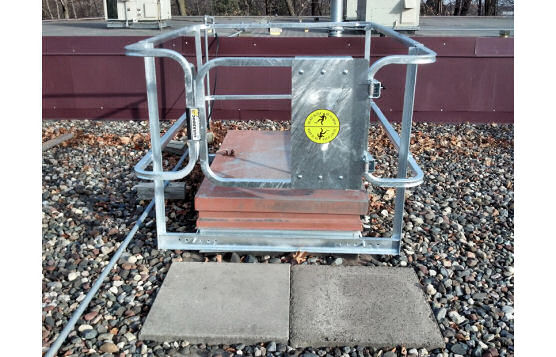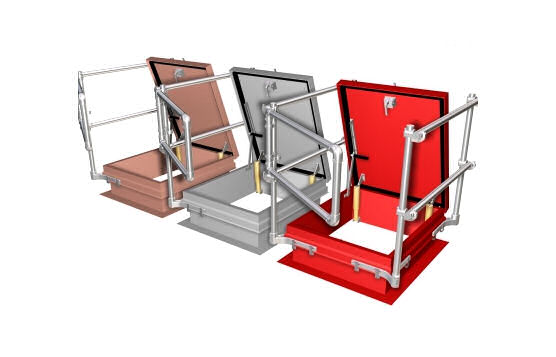 ---
FallProof has proudly served the following clients in this area of fall protection. We offer a free on-site assessment, so call us today to discuss how we can help protect your employees in your commercial, industrial, construction or manufacturing workplace.
Canon
Exxon Mobil/DBI Sala
LifeCell
Lockheed Martin
Ocean Spray
---
We are authorized distributors and installers for the following manufacturers:
BlueWater Manufacturing
Capital Safety/DBI Sala
Kee Safety
Perimeter Protection Products
The Bilco Company
FabEnCo Safety Gates
Guardian Fall Protection
Lapeyre Stairs