We Specialize In Fall Protection Design and Engineering, and Expert Installation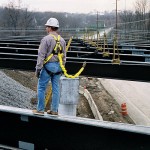 Fall protection design and engineering, and installation and custom fabrication, are what we specialize in, for historic buildings, manufacturing, construction, energy and utilities, and sports and entertainment, including arenas and stadiums, as well as distribution centers, aviation, railcars, bridges and infrastructure, etc. OSHA regulations apply to every workplace in the country, regardless of industry, and we meet or exceed their guidelines.
Although there are some variations, such as the six-foot standard for construction and the four-foot standard for general industry, the overriding physics and principles are the same. Accordingly, the fall protection plan and resulting systems that will best protect workers are site specific. Because companies in the same industry tend to have similar facilities, resulting in similar hazards, the safety systems that work well for one company tend to also work well for a competitor.
The Breadth of Our Knowledge and Experience Will Serve You Well
FallProof has experience in many different industries, some of which we have highlighted in the links below. Our twenty-year history combined with our strategic location between New York and Philadelphia has resulted in a tremendous amount of experience in providing safety netting for high-rise construction, bridge and highway infrastructure improvements and historical building renovations. We also have a core competency in manufacturing and distribution plants, corporate and commercial aircraft and general aviation airport facilities, and transportation facilities, such as bus and rail garages.
Because the building stock in the Northeast, being older than many parts of the country, was constructed before fall protection was a recognized concern, we have installed many horizontal lifelines on aging rooftops to allow engineers and contractors safe access for design, repair and replacement projects. On flat rooftops that are structurally sound, the solution has generally been to install a permanent, non-penetrating guardrail system at the edge near HVAC and other equipment, combined with skylight and roof-hatch covers elsewhere.
---
or
dial us at 1-(855) 279-2000
---
Regardless of Industry, Fall Prevention Equates To Saving Lives
If you do not see your industry listed above, that's okay!  FallProof has experience in and is capable of customizing industrial safety solutions to suit the exact specifications of your facility's unique needs, successfully completing installations for many industries beyond the list above. You can see a list of clients we have served . Contact us to learn more and to schedule a free on-site assessment, or safety audit.