Fall Protection Safety Gates Come Prefabricated or Custom Designed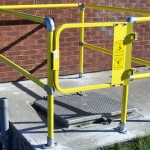 The installation of fall protection safety gates, such as an industrial self-closing style, or on fixed ladders or stairs, is an important component of a properly designed fall protection system. Prefabricated gates are available to meet most needs, and custom fabrication is available where needed. They can be used in a variety of locations, including rooftops, loading docks, catwalks, mezzanines and work platforms, and over hatches. Most locations where a worker needs to transition from one level to another can be made safer by adding a safety gate. Construction materials are matched to strength and weight needs, and include carbon steel, aluminum and stainless steel. Finishes can be either powder coating or galvanization.
---
Gates Provide OSHA-Compliant Fall Protection In A Variety of Ways
Employee injuries or death can be avoided in your commercial, industrial, construction, or manufacturing workplace and meet OSHA compliance by implementing any or all of the following solutions:
Rooftops – All access points to a roof should be protected with a self-closing gate. They include ladder openings, either through a roof hatch or exterior-mounted fixed ladders and caged ladders, stairs that do not terminate with a door entrance to the roof, catwalk or other walkway access, and transition points to a different level roof. This is not only required by OSHA; it is common sense. Far too many deaths have occurred when workers, absorbed in their tasks, backed into an unprotected opening.
Unfortunately, many older buildings were built before OSHA regulations were developed, and were constructed with a safety policy that was, in effect, "worker beware". Substantially all of these buildings need modification to bring them into OSHA compliance. During our site surveys, we work with our customer to identify and prioritize all fall hazards, and develop a program that will protect workers from injury or death, and protect the company from expensive fines.
---
Loading Docks – Unprotected loading dock edges are one of the most common fall hazards we come across. Because the most common height is only 48" to 52", they do not appear dangerous to the untrained eye, and are often overlooked as a potential OSHA violation. The OSHA general industry standard that a worker be protected from falling whenever they are 4 feet or higher that the next level was developed because that is the fall distance where death or serious injury can occur.
Dock gates are an easy to install, cost-effective form of OSHA-compliant fall protection. They are available in standard sizes that fit most openings, and manufactured to open either horizontally or vertically. Once installed, they are easy to open when needed and locked into place when no loading activity is taking place.
---
Catwalks – Existing catwalks can be retrofitted with guardrail systems that mount to the top or side of the walkway, providing adequate fall protection in most situations. The exceptions would be where a worker has to move away from the catwalk to access a particular piece of equipment, and where pipe racks, theater rigging or other obstructions make guardrail installation physically impossible. In either of these situations, a fall arrest system would need to be installed. Gates should be used at all access points and elevation changes to provide protection against trips and falls.
---
Mezzanines – Mezzanine edges can be protected with a combination of guardrail where no edge access is needed, and safety gates (available in either single or double pallet widths) where access is needed for material movement. Different gate styles allow the gates to be opened either horizontally or vertically, and allow for either manual or automated action.
---
Work Platforms – Work platforms come in many different forms, from a simple rolling stair and platform to a site and application-specific platform providing access to a specific piece of manufacturing equipment. While the rolling stair and platform likely contains an integrated gate if it was manufactured within the last 15 years, many custom installations have unprotected edges that can be made safer (and OSHA compliant) with the addition of guardrail and off-the-shelf safety gates.
---
The following are examples of safety gates used in a variety of applications: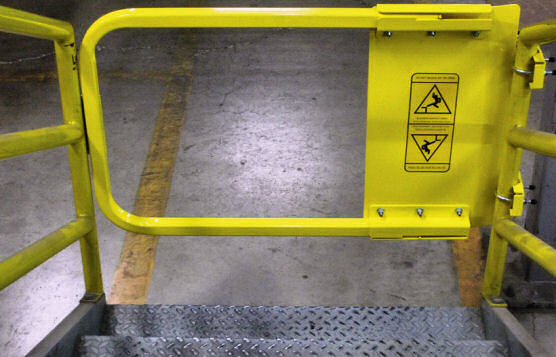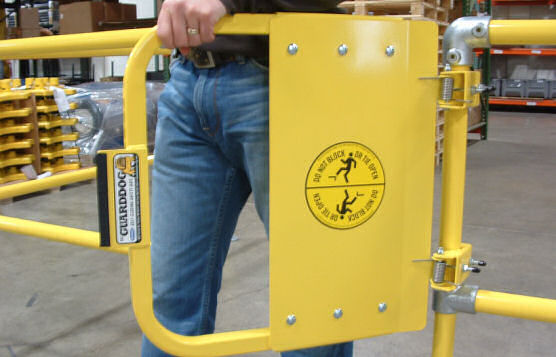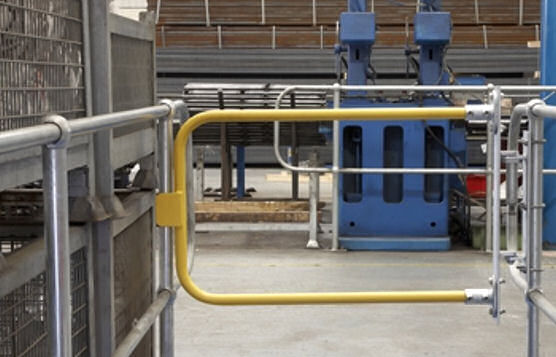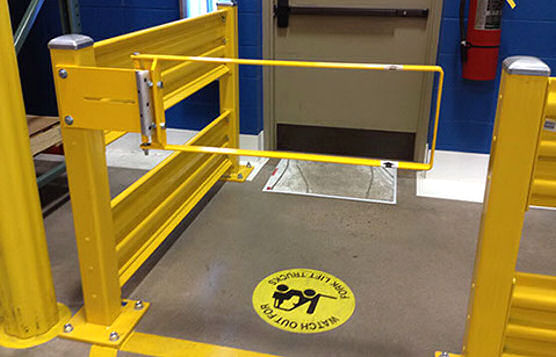 ---
We are authorized distributors and installers for the following manufacturers:
BlueWater Manufacturing
Capital Safety/DBI Sala
Kee Safety
Perimeter Protection Products
The Bilco Company
FabEnCo Safety Gates
Guardian Fall Protection
Lapeyre Stairs
Call us to arrange a free site survey to help protect your workers.