Request A Cost Quote For Safety Net Systems Installation Before It's Too Late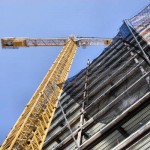 If you need a cost quote for safety net systems installation or fall protection safety netting rentals on an industrial construction site, around a sports arena, on a catwalk, around a conveyor belt in a manufacturing or distribution facility, on a school playground rooftop, in an orchestra pit, or personnel or debris nets during bridge restoration or rehabilitation, give us a call or complete the form below. A FallProof expert will respond shortly. Please provide as much information as will be helpful.
---
Click to Call
or dial us at 1-(855) 279-2000
---
The information requested below is to serve you better when responding. We respect your privacy and will never sell or rent your information. Further, all inquiries are held in the strictest confidence.
---