We Are A Respected Leader In Fall Protection Systems With A Worker-First Philosophy
Many Fortune 500 Companies Entrust Installation of Fall Arrest and Restraint Systems To Us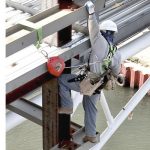 Since 1996, FallProof has grown into one of the most respected providers of fall protection systems in the nation, including installation of all types of fall arrest and restraint equipment. Our installers specialize not only in the systems mandated by OSHA regulations, but also in the hardware and equipment they depend on to keep workers safe. By living our core values of integrity, quality, communication and top-level performance on all projects we install, we have helped countless clients make the world a safer place by adopting a worker-first philosophy. The following are representative clients that have entrusted us to protect their employees.
---










---
See more.
---
FallProof's first project was to simply provide lifeline systems for maintenance workers of the Port Authority of New York and New Jersey. Since then, we have served many Fortune 500 companies, city, county and state agencies responsible for the safety and maintenance of infrastructure — from roads and bridges to mass transit highways and commuter trains, and sports and entertainment venues, from rooftop playgrounds to theaters and opera houses.
Our clients include large and small construction companies on renovation, rehabilitation and high-rise new construction projects, pharmaceutical companies, airports and aviation maintenance facilities, energy and utility providers, owners and operators of historic buildings, and manufacturing and distribution hubs for some of the country's biggest names in business, as well as steel mills, and many more.
---
FallProof Provides World-Class Solutions To Meet Challenging Needs
Headquartered in Trenton, New Jersey, we are not just another safety equipment distributor. We are a full-service agency with a dedicated team of professionals. Our experts are certified and experienced practitioners in fall safety and risk management, delivering world-class solutions that include custom design and engineering services to meet the most challenging needs of your company's elevated work environments. With the goal of helping you protect your company's most important business assets (your employees), we deliver full, turnkey services that cover all aspects of a project, from the initial on-site safety assessment through design, engineering, fabrication, installation, testing, and final certification.
---
or
dial us at 1-(855) 279-2000
---
Effective Safety Measures Begin With Knowledge, Experience and Training
Since these systems work only if your employees know how to use them, we also provide equipment inspection, service and modification, hands-on training at our state-of-the-art Honeywell training center, and on-site training following installation at your location. We maintain relationships with all leading vendors of equipment and safety netting and affiliated industry organizations. This allows us to provide leading-edge, brand-agnostic, cost-effective, and application-specific solutions based on the specific needs of your business, rather than the limitations of a product line.
---
We Partner With You On Your Terms
As the person responsible for worker safety, your goal is to ensure that your employees get home safe each and every day; however, many times, the solutions needed in their workplace are not readily apparent. Whether you are looking for OSHA compliance guidance, customized safety equipment to meet the unique needs of a specific jobsite, or less restrictive gear without compromising safety, we will partner with you on your terms. Our experts will help safeguard your business against accidents, reduce insurance costs and improve long-term employee productivity. Call us to schedule a free on-site assessment.