Fall Protection Engineering Services That Keep The Focus Where It Should Be
Our Fall Protection Design and Engineering Solutions Comply With OSHA and ANSI Standards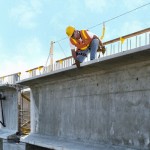 Fall protection engineering services provided by FallProof, along with its design and consulting services, focus on the worker. Although we always take OSHA regulations and ANSI standards into account, we never forget whose life is at stake. An unused fall protection system offers zero protection to either the worker or to the employer, and improperly used, it is often worse than nothing at all, as it can give a false sense of security. We design effective, user-friendly, custom solutions that meet the specific needs of your work environment and ensure each worker actually uses the equipment.
---
Design Services: From Observation to Conceptualization
Our design services are site specific, and usually begin with walking the area with a safety manager, during which areas of concern are identified and discussed. At this time we are able to observe workers doing their job, and begin to conceptualize safety solutions. We also discuss with them what they view as their needs and vulnerabilities, as well as how their work flow would change with alternative solutions.
The optimal system is both cost effective and minimally intrusive on the worker, but there are often trade-offs between these two goals, which are discussed and evaluated with company management. The end result of the design process is a quote to the customer for a specific system at a stated price. The quote also identifies uncertainties, if any, that may arise during the engineering phase.
---
Engineering Services: Ensuring That Solutions Perform As Required
Once a proposal is accepted, our expert engineers prepare the detailed calculations and drawings that ensure that the horizontal or vertical lifelines (or other solutions) will perform as required. They take into account the following factors:
Fall clearances available;
Number of simultaneous workers;
Legal limits of forces experienced by a falling user;
Strength limits of anchors and other components;
Strength limits of structures to which system components are attached;
Interaction between components;
Ways to use the system without interruption;
Rescue options; and
Accommodations for local and federal safety regulations.
Our engineers use CAD software to design structural elements and components, and structural analysis software to test and confirm the integrity and safety of the overall design. When necessary, plans for custom mounting brackets, column or truss reinforcements and similar items are prepared.
Our fabrication shop allows us to fabricate the structural elements and components of any engineered solution we design. Our certified craftsmen conform to American Welding Society's Structural Welding Codes (AWS D1.1.).
For safety netting installation, our engineers prepare the detailed shop and layout drawings required by the New York City DOB (Department of Buildings) and other local authorities to ensure that you don't get a stop work order or violation notice in the middle of your project. Our familiarity with their requirements helps to minimize the time needed for approval, saving you both time and money. Below are some of the clients we have proudly served.
---












---
or
dial us at 1-(855) 279-2000
---
Call us today to speak to one of our design and engineering experts.