Equipment Inspection Training Is More Effective In A Controlled Environment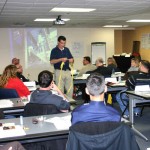 Our hands-on equipment inspection training is a fall protection certification program geared to two specific user levels. The first is generally conducted immediately following our two-day "competent person" training, and gives participants the opportunity to inspect and pass or fail a variety of fall protection systems and components in a controlled environment before having the responsibility to conduct annual inspections in the actual workplace. The second is an eight-hour course for the person responsible for issuing equipment to users. This person, while not having the level of responsibility of a competent person, is responsible for inspecting equipment prior to releasing it to ensure that worker safety is not compromised by using equipment that should be removed from service.
---
We also offer small and large group awareness training. If you are unsure about the training needed, give us a call, and one of our experts can assist you.
---
Click to Call
or dial us at 1-(855) 279-2000
---
Who Should Attend – (a) A tool crib worker who needs to inspect the equipment prior to issuing to the users, but does not have the level of responsibility the competent person does. The training provides experience, methodology and in-depth look at all standards (ANSI & CSA) and regulations (OSHA) covering inspection of personal fall arrest systems; or (b) A newly-trained "competent person" who is responsible for the annual inspecting of personal fall arrest systems. This individual might need additional hands-on inspection experience to broaden their education.
Class Size – Open enrollment, limited to 24 participants (class also available in Spanish).
Course Materials – Reference materials including compilation of standards covering inspection, schematics of personal fall arrest systems, checklists, inspection program guidelines, and certificate of compliance.
Duration – 8 hours, 8:00 a.m. – 5:00 p.m.
Cost And Availability – Please call us or submit an online request to inquire about rates and class availability. After a discussion with you, we will email you a link to register and make payment as needed.
---
---
Summary: This course includes the same training given to competent persons, and also has a classroom component that reviews ANSI standards and OSHA regulations governing inspection of personal fall arrest systems.
Program Topics:
Definition of competent inspector and requirements for the role; and
Inspection pass/fail criteria for American National Standards Institute (ANSI), Canadian Standards Association (CSA), Occupational Safety and Health Administration (OSHA), as well as inspection procedures and hands-on practical exercises.
*Source: Portions of course information were provided courtesy of Miller Fall Protection.