Horizontal Lifelines Can Be Temporary or Permanent
A Horizontal Lifeline Protects Employees Above Or On Top of An Area or Equipment
Horizontal lifelines as personal fall arrest systems, also referred to as HLLs, protect workers on elevated work surfaces, such as rooftops, chemical vats, bridge trusses, pipe racks, crane runways, or steel girders on the upper floors of buildings during construction. In maintenance facilities, they protect workers atop airplane wings, buses and large trucks. HLLs can be temporary or permanent.
---
A Variety of Factors Should Be Considered For HLL Installation
Factors to be considered in the design and selection of HLLs include the potential for pendulum-like swing falls, the maximum forces that could be generated in the event of a fall, the number of workers that need to be protected, the strength of the building members or other places where the line will be mounted, and the height of the system from the ground or other level, including intermediate obstructions such as equipment of a pipe rack. Additionally, where more than one option is available, the ease with which workers can do their job while being protected and cost considerations become important.
---
To speak to one of our experts about how these solutions can be installed in your workplace, please click on the blue button below, or complete our Contact Us or Request a Quote (top right). You will be able to upload drawings and other materials to help us with our preliminary evaluation of your needs.
---
Horizontal Cable Lifelines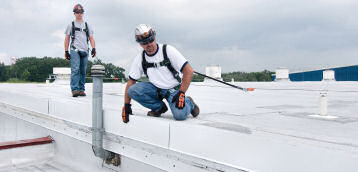 Horizontal cable lifelines are an active fall arrest system that can be installed for workers at height across a broad spectrum of industries and applications. FallProof has designed, engineered, and installed them for railcar loading and unloading, steel mill crane runways, aviation hangers, rooftops, etc. Less expensive and quicker than their rigid track counterparts, these systems are generally used for projects with higher fall clearances.
Fixed Track & Rigid Track Lifelines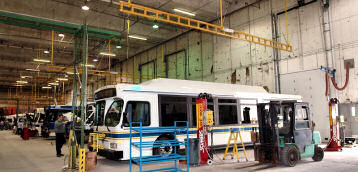 Horizontal rigid and fixed track lifelines, like their cable counterparts, also are an active fall protection system. We have assisted distributors, industrial manufacturers, and conglomerates with their installation. Due to their rigid nature and design, they are used in areas where lower fall clearances are needed, allowing them to arrest a person's fall without sag or cable flex, and where a horizontal cable lifeline would be impractical.

We are authorized distributors and installers for the following manufacturers of horizontal lifeline systems:
Capital Safety/DBI Sala
Gorbel
Kee Safety
Miller Honeywell Safety Products
Rigid Lifelines
XS Platforms
---
or
dial us at 1-(855) 279-2000