Providing Fall Protection While Preserving History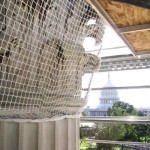 Historic building fall protection and debris retention during renovation or repairs extends beyond preserving history. When retention netting is applied to aging buildings, such as FallProof provided here on the U.S. Supreme Court Building, pieces of masonry, concrete and other debris are prevented from falling and potentially injuring people on the ground below. This inexpensive fix gives the municipality or other owner years to develop and fund a permanent solution. The following are a few of our historic building clients:
Franklin Institute, Philadelphia, Pennsylvania
Maryland State House, Annapolis, Maryland
U.S. Supreme Court Building, Washington, D.C.
Wellmont Theater, Montclair, New Jersey
Woodrow Wilson Hall, Monmouth University, New Jersey
---
Our Experience Includes Buildings On The National Register of Historic Places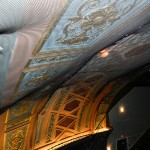 When a building has aged to the point that pieces are falling to the ground, demolition or expensive repairs are needed. For buildings on the National Register of Historic Places, such as the U.S. Supreme Court Building in Washington, D.C., Woodrow Wilson Hall at Monmouth University in New Jersey, demolition is not an option. FallProof experts are experienced in this specialty solution, and in these cases, the entire area below the buildings cannot be completely blocked to pedestrian access. In both of those situations, FallProof was engaged to wrap the cornices with retention nets to hold the loose masonry or concrete in place for years while a permanent solution could be planned, engineered and funded. Pictured here, FallProof placed retention netting on the ceiling of the Wellmont Theater in Montclair, New Jersey during an extensive renovation.
---
Although Structurally Sound, Old Buildings Still Need Fall Protection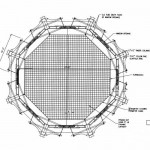 It is not only famous structures that are affected. Thousands of unknown buildings built in the late 1800's and early 1900's are in need of repair or replacement. FallProof has installed retention netting in and on schools and rooftop playgrounds, courthouses, museums, churches, theaters, municipal buildings, smokestacks, and other structures that could not be taken out of service until needed repairs were undertaken. In general, these buildings are structurally sound but have weak points such as ornamental molding that presents a danger to people and objects below. Netting allows the functional parts of the building to remain in use while removing the danger caused by the loose, nonstructural material.
---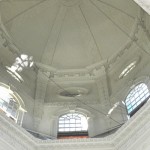 FallProof has worked with architecture and engineering firms as well as general contractors specializing in the preservation and restoration of historic buildings to make a workplace safe during the renovation process. As one example, in 2013, the Maryland Historical Trust started a maintenance project to restore windows in the State House Rotunda in Annapolis. Completed in 1779, The Maryland State House was the site of George Washington's resignation as Commander In Chief of the Continental Army, and has the distinction of being the largest wooden dome constructed in the United States without nails. For the restoration project, the original windows had to be completely removed for the first time since the dome was constructed.
---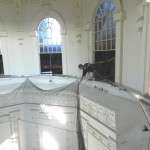 Consistent with work we have done on other historic structures, no penetration of the building was allowed. To overcome this engineering difficulty, FallProof designed and installed custom brackets that remained outside with threaded rod protruding through the windows to secure compression brackets with eye bolts inside the dome. Cables were run through the eye bolts to support the safety netting needed to prevent debris from falling onto the Rotunda floor during window removal and re-installation. Its opacity allowed the dome ceiling to remain visible from the floor below.
---
Below are examples of a few more historical building projects we have completed.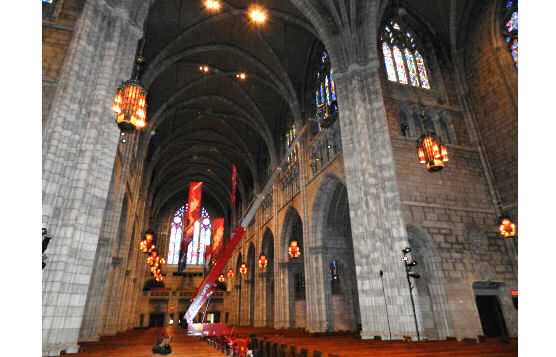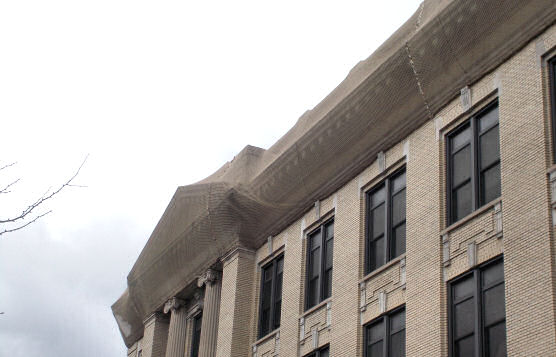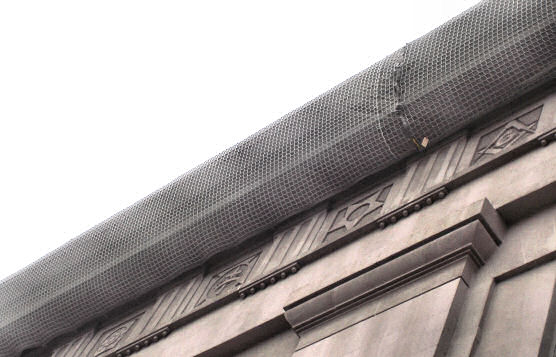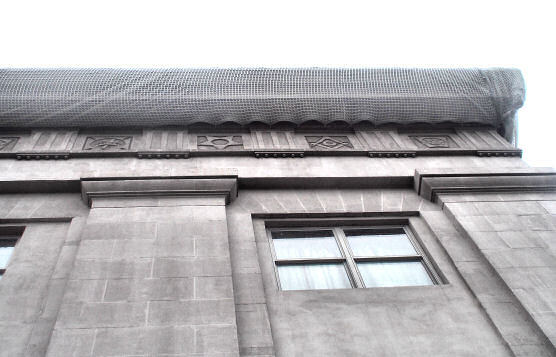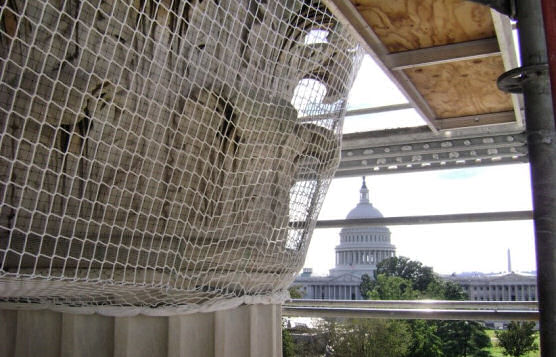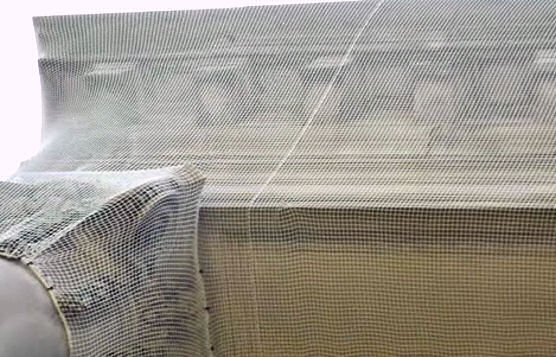 ---
Click to Call
or dial us at 1-(855) 279-2000
Because of our extensive experience with historical structures, we have a large array of custom brackets available for sale or as rentals, and we are able to design and fabricate as needed, if your solution is not already in our inventory. Call us to discuss how you can benefit from our experience with historical buildings to help you make your aging structure safe. We offer a free-on-site assessment.