FallProof Leads The Way In Aviation Fall Protection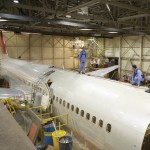 Aviation fall protection extends industry wide to business and commercial airlines, airports and aircraft hangars, manufacturers, and to maintenance and service facilities that rely on us to help protect their workers. From assistance in developing a comprehensive fall safety plan to selection and installation of specific equipment, and ongoing maintenance, inspection and re-certification, we partner with you to keep your most important assets — your employees — safe from harm. Our aviation industry-related clients include the following:
---







---
A Myriad of Solutions That Meet Every Need
Our solutions for the aviation industry include, but are not limited to, the following:
Lifeline Solutions – We have provided custom design, engineering and installation services in a variety of facilities. Employees in manufacturing plants use fixed-track lifelines to perform tasks safely on top of aircraft under construction. In fixed-base operator (FBO) and other maintenance facilities, fixed-track lifelines enable workers to safely stand on the roofs or wings of aircraft while providing maintenance and cleaning.
Where adequate clearance exists, cable can be used in place of rigid track to provide less expensive protection. Sometimes portable fixed-track lifelines also are used, which are mounted on a steel frame on wheels. These units are easily movable around an area, such as an airplane hangar or tarmac, allowing workers to safely perform maintenance and cleaning on different airplanes and helicopters without having a permanent system installed in every potential workspace.
We also install vertical lifelines next to fixed ladders inside and outside aircraft factories and airport hangars, and provide rooftop fall protection in the form of guardrails, restraint and arrest systems.
---
Single-Point Anchors – Portable vacuum anchors are used in airport maintenance facilities where workers must climb on top of airplane wings and roofs to service the aircraft. A vacuum anchor is easily moved around to different aircraft and attached to different airplane wings several times a day. Fixed anchorage points can be an ideal, cost-effective solution where maintenance is routinely done in the same area.
Inspections and Lifeline Modifications – FallProof's experts inspect existing lifeline systems in airplane hangars and facilities for OSHA and ANSI compliance and certification. Also, when an airplane hangar begins to service new types of aircraft, modifications must often be made to the hangar's existing systems to accommodate the new footprint. We offer design, engineering, fabrication and installation services for these lifeline modifications.
---
The following slides are examples of our projects for companies in the aviation industry: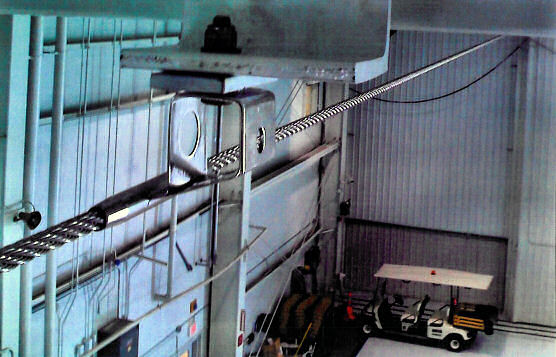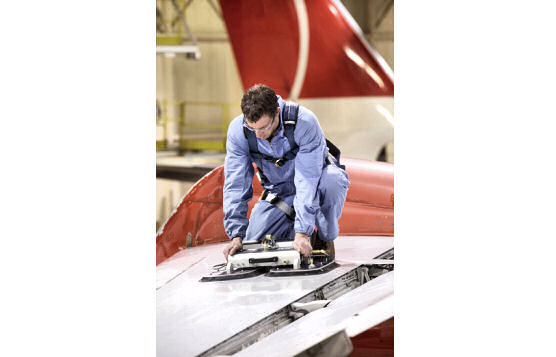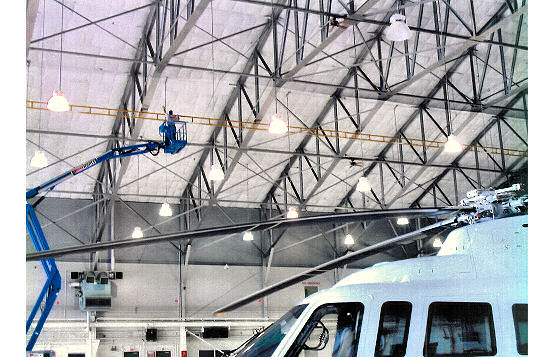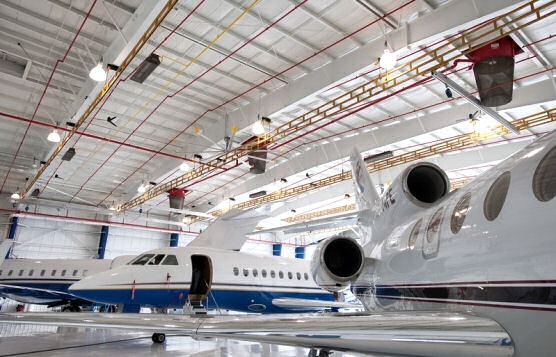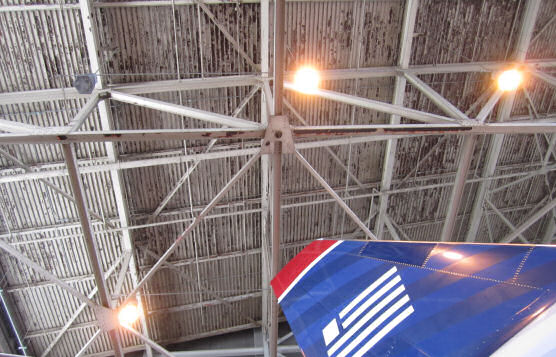 ---
Our clients in the aviation industry include:
Boeing
Bombardier, Inc.
Dassault Falcon (Dassault Aviation)
GX Aviation (Inmarsat)
Hess Corporation
IBM Transportation Services
Merck & Co., Inc.
Pfizer, Inc.
US Airways
ZBI Aviation Services
If you are interested in implementing the right solutions into your employees' work environment, FallProof is your fall safety expert. As we draw upon our past experiences with businesses in the industry, our guidance helps you arrive at the best solutions to keep your workers protected when working at height. Call us today for a free on-site assessment.