Product Inspection and Safety Go Hand In Hand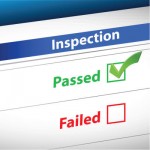 Fall protection inspection services go hand in hand with product equipment safety and fall arrest systems once you have a safety plan in place. Its effectiveness in preventing fall-related accidents is directly correlated with all of the personal protective equipment (PPE) and related systems that protect your workers being in good working order.
To ensure that your equipment is maintained throughout each year, it must be used, stored and cleaned properly, and it is an OSHA requirement that each user be trained to inspect it before each use. Because of the slow degradation of equipment that occurs over time which may not be noticeable to the user, an annual inspection by a competent person – of harnesses, lifelines, self-retracting lifelines, and more – is also required. This protects workers and helps maintain compliance.
---
FallProof's Inspections Incorporate State-of-the-Art Technology
We provide annual inspections of existing systems and equipment for OSHA and ANSI compliance and use state-of-the-art technologies to ensure seamless management of your inspection services. They include:
Instant Identification:

Instead of relying on serial numbers, this system uses RFID tags and barcodes to automate the process. We scan an RFID tag and instantly know that we are inspecting the correct asset.
Mobile Devices:

No more clipboards for inspections and audits. With a tablet or handheld device, we save time and eliminate errors that generally come with the inaccuracies of handling paperwork.
Web Reporting:

Produce up-to-date and accurate inspection documentation immediately, 24/7, by storing your safety data and analytics securely on the web. When you partner with FallProof, we work with you to maintain your equipment so you always know you are in compliance.
Our inspectors might also perform any of the following during the annual inspection or on a scheduled follow-up service call:
On-site repairs;
Replacement of components; and
Retraining on current best practices.
---
---
Periodic Inspections Equate To A Life-Saving Necessity
To protect your workers, as well as the equipment they rely on every day to ensure their safety, regular ongoing inspections aren't just a good idea; they are a life-saving necessity. Below are some of the clients we have proudly served.
---












---
Click on the button above, or contact us through our web form, to schedule an inspection with one of our in-house experts. Feel free to upload drawings that might help us evaluate your needs.