Emphasizing Fall Protection Training Speaks Volumes About Your Business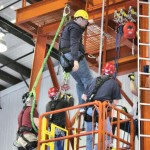 We offer fall protection training classes for Awareness, Competent Person and Equipment Inspection for workers and their supervisors. They feature climbing apparatuses, hands-on experience with equipment, classroom time, and other services designed to eliminate workplace hazards. Classes are OSHA-certified, held in our state-of-the-art training center in Central New Jersey. We focus on reinforcing worker safety in the workplace, proper equipment operation and comprehensive fall arrest training, which can be tailored to your specific needs.
---
Employees Are Your Most Important Business Assets, So Keep Them Safe
Implementing fall protection equipment into your workplace does not mean much unless your employees are fully informed on how to operate the equipment properly. More importantly, they are your most important business assets. Do not wait until an accident happens and you are faced with a rescue in a confined space due to a workplace hazard that could have been avoided. Our OSHA-certified classes include comprehensive fall arrest training services, and attendees will receive a certificate of completion.
---
Cost And Availability – Please call us or submit an online request to inquire about rates and class availability. After a discussion with you, we will email you a link to register and make payment as needed.
---
Awareness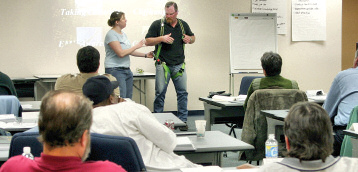 Awareness (previously Authorized User), is a 4-hour, ½-day class, geared towards the individual users of personal protective equipment (PPE). It is intended for the everyday worker and focuses on how it is used, the basics of a fall arrest system and its operation. Many companies will choose this course for employees of non-supervisory status who need a basic understanding of fall prevention and safety for their everyday job.
Competent Person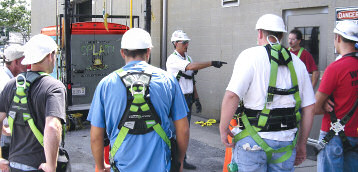 Competent Person (previously Competent Inspector) is a 16-hour, 2-day course (8-hours per day), that is more comprehensive than the basic Awareness course. Ideally, the person taking it would be a supervisor responsible for employee safety, with a particular emphasis on fall protection. Discussion will be on the theory behind it, the equipment used, fall clearance calculations, etc., seeding a knowledge for the participant to build on.
Equipment Inspection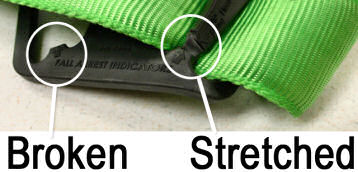 Equipment Inspection instruction is intended as an add-on to the Competent Person course, geared towards EHS managers who want to perform their own inspections, taking the process one step further by looking at how equipment should be inspected and how to properly remove broken apparatus from service.