Horizontal Cable Lifelines Are Versatile and Cost Effective
A Horizontal Cable Lifeline Is Frequently Used For Rooftop Fall Protection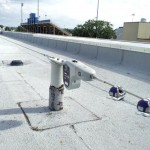 Horizontal cable lifelines are a versatile type of fall protection that is cost effective and can be used in many different locations, situations and industries. Lengths can be as short as a few feet, up to hundreds of feet, and the flexible wire rope used allows the fall arrest system to be bent around corners, up and down the pitch of a roof or around equipment. They are frequently used on crane runways, rooftops, dams and other areas with adequate fall clearance.
In these systems, a wire rope, generally containing an energy-absorbing shock absorber, is tensioned between two or more anchor posts. The line is equipped with pass-through brackets and shuttles, allowing the worker to traverse the system without having to disconnect and reconnect, allowing for 100% tie-off at all times. In the event of a fall, the combination of the in-line shock absorber, stretch of the cable, and lanyard or SRL protect the worker by slowing the speed of the stop, thereby minimizing the arresting forces on the body.
---
Cable Lifelines Are Not Suitable For All Applications
FallProof offers industry-specific, full-turnkey solutions that meet and/or exceed OSHA and ANSI standards. Our team provides design, engineering, fabrication, installation, certification and employee training to meet the needs of your elevated work environments. Although cable lifelines are less expensive and more widely used, they have the disadvantage of requiring a greater fall clearance when compared to a fixed or rigid track system. Accordingly, they are not suitable for all applications.
---
Click to Call
or dial us at 1-(855) 279-2000
---
Call us today to discuss your specific location. We offer a free on-site assessment, and our experts can help you determine what is best for your needs. You also may contact us by email (feel free to upload drawings or other materials that will help us). All inquiries are held in strict confidence. Below are a few horizontal cable lifeline installations FallProof has completed for various clients.
---