Our Guardrail Systems Installation Includes OSHA-Compliant Passive Fall Protection
Use Guardrails and Roof Hatch Systems Around Rooftop Openings or High-Voltage Equipment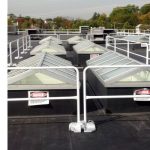 Guardrail systems installation provided by FallProof extends to rooftop fall protection, skylight railings, guards and screens, and roof-edge guardrails. At, on, in or near a construction site, steel mill, nuclear power plant, water tower, aviation and aircraft manufacturing maintenance facility, factory floor, catwalk, parapet wall, or rooftop where maintenance is often performed on HVAC or other equipment, in every respect, our expert installers comply with OSHA regulations relating to passive fall protection. They include rooftop solutions on an elevated walkway or around a roof hatch opening, as well as safety gates, all of which, collectively, comprise FallProof's barrier systems division.
---
FallProof Is Recognized For Both Experience and Expertise
We are widely recognized throughout industry not only for excellence in fall protection design and engineering and custom fabrication, but also for the full turnkey solutions we have installed, all of which are OSHA and ANSI compliant. Installing the various types of guardrail equipment we offer does not require specialized training; however, if you do not have an in-house crew to handle the install, we can send a team of specialists to assist.
When combined into a complete solution, non-penetrating guardrails can be modular, and in any configuration, they reduce hazards and eliminate the risk of fall-related accidents. These passive, or collective, systems, are preferred by OSHA where they can be utilized, because no specialized equipment or worker training is needed. Industries we have served include aviation, construction, energy, manufacturing and distribution, transportation, water and utilities, and more. Call us today for a quote, or send us an email. When calling, it is helpful if we are provided with the number of linear feet for the area requiring protection, and when emailing us, you may upload documents or CAD drawings for our review before responding.
---
or
dial us at 1-(855) 279-2000
---
We have proudly served the following clients for the products mentioned above. We distribute and install for all major manufacturers, and will assemble a system that meets your needs and fits your budget. We also offer a free on-site survey or assessment. You can see more of our clients here.
Canon
Cobham Defense
Exxon Mobil
Genzyme
Headwaters, Incorporated
IMG
Lehigh Valley Hospital
LifeCell
Lockheed Martin
Ocean Spray
Old Navy
We are authorized distributors and installers for the following manufacturers of guardrail and related solutions:
Bilco
BlueWater Manufacturing
Capital Safety/DBI Sala
FabEnCo
Guardian Systems
Kee Safety
Lapeyre Stairs
Perimeter Protection Systems