OSHA Regulations Require Fall Protection System Certification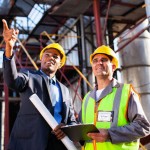 Fall protection system certification goes hand in hand with our equipment inspection services. Certification is designed to comply with OSHA regulations and ANSI standards to protect your workers from injury and your company from liability claims. During this process we document each individual component of your systems by serial number, provide certificates of inspection and testing and provide proper signage to verify the equipment's tested capabilities and operational limits. We also provide annual re-certification.
OSHA regulations, ANSI standards, manufacturers' recommendations and common sense are all in agreement: Each and every component of a fall arrest system, including the user's PPE, should be inspected by the user before each use, and by a competent person at least annually (more frequently if dictated by environmental conditions or other factors). The annual inspection is designed to ensure that a slow degradation of a component that may not be noticed by a daily user is found and addressed before it would cause a failure in the event it is called into action to save the life of a falling worker.
---
FallProof's In-The-Cloud Historical Inspection Records Improve Efficiency
We RFID-tag everything we inspect and certify, and we securely store historical inspection records in the cloud. This allows our technicians in the field to quickly pull up a checklist, review notes and pictures from previous visits, document observations and comments for the next year, and issue a certificate that everything is in good working order and can be relied on for the next year. In the event we are not able to issue a certificate, we recommend the equipment be immediately removed from use, and provide an estimate of the cost to repair or replace the failing components. Our database also allows us to immediately provide a snapshot of the inspection status of a customer's equipment, whether it is located in one building or spread among multiple facilities across the country.
---
---
We Will Ensure Your Ongoing Compliance With OSHA and ANSI
As you implement new equipment into your facility, you need to ensure that everything remains in good working order, and in compliance with OSHA regulations and ANSI Standards. Adhering to this practice is an important and required step in your goal towards achieving absolute worker safety. We are certified for installation and inspection of equipment systems from the following manufacturers:
Rigid Lifeline Systems
Miller Honeywell Safety Products
Gorbel Systems
XS Systems
DBI Sala/Capital Safety Systems
Kee Safety
If you decide to install the system yourself (or have devised your own home-grown solution), we will come to your business to inspect and certify your new equipment. Ready to learn more? FallProof has served clients throughout the U.S. and North America. Call today to speak with one of our experts about how our flexible services can fit the unique needs of your business.
---