**PLEASE NOTE: All rental guardrail is shipped FOB from Trenton, NJ 08619 and will be quoted separately as a line item on a rental quote. **
Safety Railing Rentals Offer Cost-Effective and OSHA-Compliant Passive Fall Protection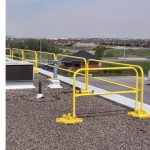 Guardrail rentals in the form of rooftop safety railings and temporary roof hatch systems, and a variety of fall safety guardrails for construction and industrial workplaces, will keep you in compliance with OSHA regulations and help you avoid costly fines. This cost-effective fall protection solution is ideal for roof replacement, HVAC maintenance, plant shut-downs, short-term construction projects, and other temporary needs. We keep a large rental inventory in stock and provide quick shipping nationwide.
Renting is better than buying when the equipment is needed only for a single job. At the end of the job, the system is simply shipped back to our warehouse, and you have no need to worry about storage. When the next need comes along, you get the exact system you need, rather than trying to adapt what you already own to fit your need. However, on longer jobs of six months or more, it almost always makes more sense to buy than to rent.
---
Our Rentals Meet or Exceed OSHA Requirements
When you decide to rent rather than buy fall protection equipment, you want to be certain it is OSHA compliant. All of our rental stock is powder coated safety yellow, meets or exceeds all OSHA requirements, comes with matching bases, and is quick and easy to install. Because these systems are modular, they can be easily adapted to protect around hatch covers, skylights, cutouts and other openings. Where needed, we will send our crew to assemble the system for you. Alternatively, we will deliver the guardrail to you for your team to install. We are always expanding our rental inventory, so if we don't already have what you need, we will buy it and rent it to you. We provide rental of the following temporary guardrail solutions:
Portable, non-penetrating guardrails for unprotected roof edges, ledges, and roof-to-roof areas.
Portable guardrails for roof hatches, skylights, and floor doors.
Portable skylight screens.
Portable guard rails or demarcation systems for traffic or crowd control.
All configurations available with or without toe boards, gates and other accessories.
---
Rentals Are Portable, Easy To Install and Easy To Return
We can ship your railing solution anywhere in the country, and our portable guardrail systems come with installation instructions. Contact a fall safety solutions expert at FallProof today to learn more about our rental options. The following slides show example projects for which we have provided these solutions.
---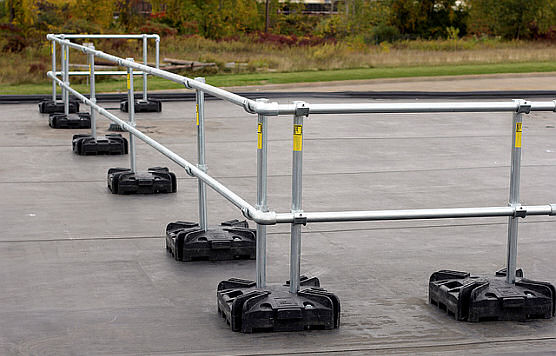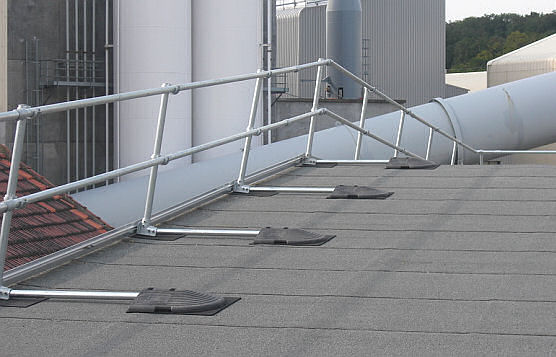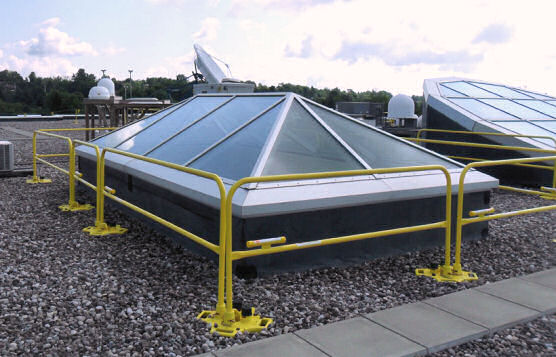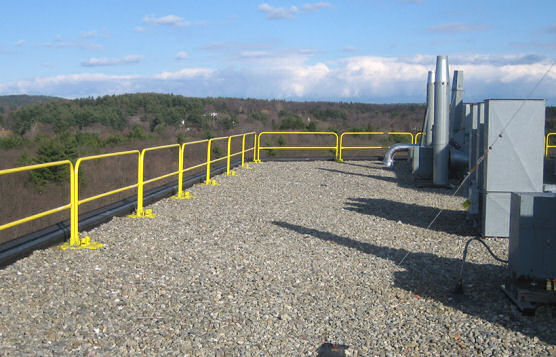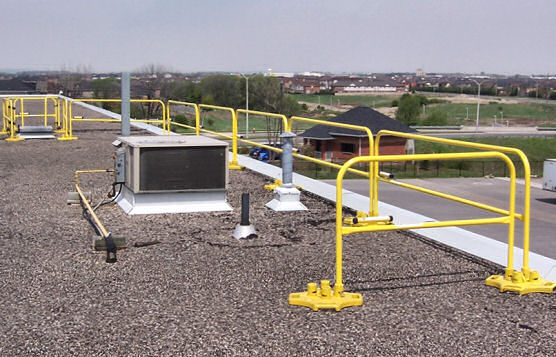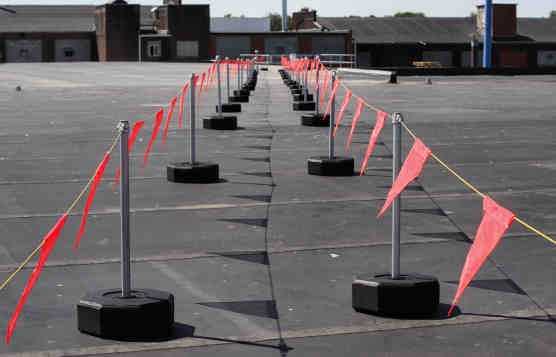 ---
We are authorized distributors and installers of guard rails and safety railings solutions for the following manufacturers:
Kee Safety
BlueWater Manufacturing
Perimeter Protection Systems
FabEnCo Safety Gates
Lapeyre Stairs
Bilco
Capital Safety/DBI Sala
Guardian Systems
Call today to discuss how we can help meet your short-term needs to rent or lease. We also offer a free on-site assessment.