Safety Net Systems Installation In The Workplace Should Not Be An Afterthought
We Specialize In Personnel, Debris Containment, Specialty and Industrial Netting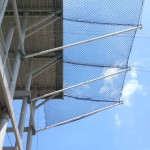 Safety net systems installation is integral to personnel fall safety, as is debris containment netting, in order to safeguard elevated work areas to protect employees, nearby structures and pedestrians below. For personnel or containment of construction materials, or to arrest flying objects, they are reliable products for limiting the distance a person, piece of equipment or chunk of concrete falls or projects outward.
Examples of uses are on scaffolding in a commercial workplace, on an industrial construction site, particularly, during new construction where the netting can serve as a cocoon, or guardrail of sorts, around the perimeter of a building, on or under a bridge where a hazard of falling rock exists, or around guardrails on rooftops where fall protection is not otherwise present. Such a system also can serve as a barrier to prevent injuries or damage to people and structures just beyond the net that are within a close proximity to the workplace.
---
or
dial us at 1-(855) 279-2000
---
We Are An Industry Leader With A Worker-First Philosophy
FallProof has installed millions of square feet of vertical, horizontal and specialty workplace safety netting in hundreds of locations, and we are proud of our worker-first philosophy. If gravity is involved, and you want to keep people or things from crashing to the ground, we can custom design an economical solution that meets the unique needs of the facility or area you need to safeguard. We provide design and engineering services, custom net and hardware fabrication, and training and installation, and all systems are available for purchase or as rentals.
When combined with our hardware and industry experience, worker protection can be achieved in situations as varied as a construction site, an emergency short-term fix where bricks, chunks of concrete or other objects are falling off a bridge or historical building, preventing goods from falling off a conveyor in a distribution facility, and keeping balls inside a rooftop playground in New York City. Contact us today to discuss your specific needs with one of our experts.
Debris Netting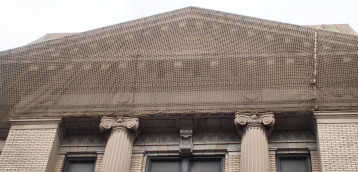 Our debris nets have been used to stop and contain falling concrete and other objects on historical buildings and structures, construction, renovation and demolition sites, and bridges, roadways and other infrastructure.
Hardware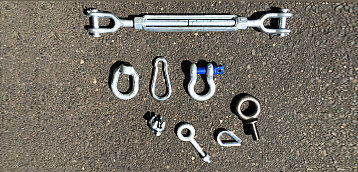 It takes both nets and hardware to protect your workplace. Our extensive inventory includes custom brackets for one-of-a-kind situations, outrigger poles, slab grabbers, cables, clips, clamps and everything else needed for one-stop shopping.
Installation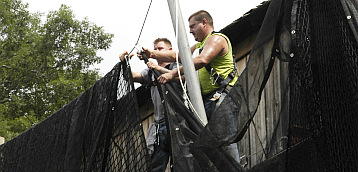 Our installation options help you get the job done on time and on budget. From a full-turnkey solution using our crew to sending only a working supervisor to train yours, we will work with you to ensure your workers and property are protected.
Personnel & Fall Protection Netting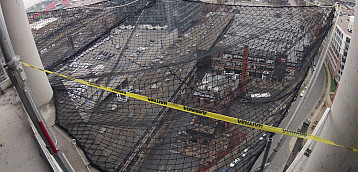 Our horizontal perimeter systems protect your workers at height on high-rise construction sites, while our same-floor installations offer protection during roof replacements. A combination of the two is often used on bridges.
Rentals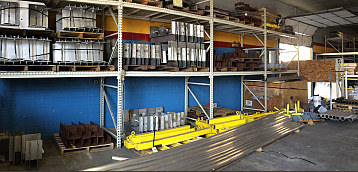 Because many jobs last only a few months and every job requires a different configuration of netting and hardware, a rental often is the best option over buying. We offer quick-ship fall protection net rentals to jobsites anywhere in the country.
Specialty and Industrial Netting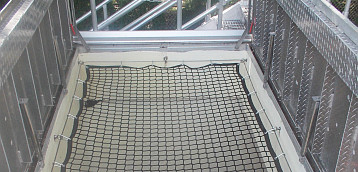 Rooftop playgrounds in Manhattan, conveyor belts in warehouse and distribution centers throughout the country, tennis facilities, orchestra pits and airports are a few of the locations where our specialty solutions have been applied.