For Personnel Safety Netting, An Ounce of Prevention Is Worth A Pound of Cure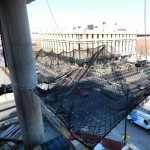 Personnel safety nets aptly apply to Benjamin Franklin's quote, "An ounce of prevention is worth a pound of cure", and the need for fall protection netting during bridge renovation and maintenance, new high-rise construction, roof replacements, and many other one-of-a-kind and specialty situations. Your employees are the lifeblood of your business. Putting their safety first should not be an afterthought. During a bridge renovation or roof replacement, the nets are typically installed as close to the work surface as possible. In this case, they serve as a second floor, so that a worker will fall no more than a foot or two in the case of an accident.
---
Personnel Netting Can Serve Distinctively Different Purposes
There are three types of personnel safety netting solutions: personnel cantilever or horizontal perimeter systems, same-floor systems, and a combination of personnel safety and debris containment netting:
Personnel Cantilever Netting Systems –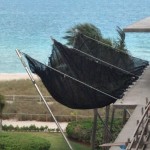 Personnel cantilever systems are used on the exteriors of high-rise buildings under construction or renovation. In this system, nets are hung around the perimeter of a certain floor (e.g., the 5th floor) using horizontal outrigger poles. If a worker falls into the net, it folds down and inward to absorb the impact, and then "levels out" again. This cushions the impact and prevents the worker from being seriously injured or bouncing off when they hit the net.
Additionally, the entire system has the capability to be "jumped" to higher floors as the building rises. In case of bad weather, a cantilever system is easily "pulled in" from where it is attached. This protects it from being damaged by high winds, heavy rain, hail or snow. It also is used on bridges, such as those used for railroads, where a horizontal lifeline might be difficult to attach to the structure, or limit worker movement. In this scenario, the net is attached to the underside of the bridge, with outrigger nets on both sides. Workers can move and perform tasks freely on the bridge structure, while also being protected from injury if they fall.
---
Same-Floor Netting Systems –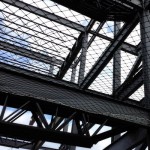 Same-floor systems are used in the interiors of buildings under construction. In this case, the nets are installed horizontally in the spaces between beams before concrete is poured or the floor is laid down. They are stretched between the inside corners of the beams and provide both a working surface and a fall prevention surface. Same-floor nets catch workers falling from the floor where the nets are installed, but are not designed to absorb the impact from a higher floor. Therefore, they must be used on every floor of a building where workers are working, and should be installed as close to the working surface as possible.
Also, same-floor systems are often used on roof replacement or rehabilitation projects where workers are at risk of falling through the existing roof at structural voids. On many bridge renovations, a hybrid system is used, with same-floor nets installed directly under the bridge surface to protect against a worker falling through, and cantilevered nets installed on outrigger poles to protect against a worker falling off the bridge.
---
Personnel and Debris Containment Combination Solution –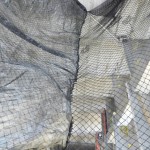 Personnel safety nets are easily combined with debris containment netting. A fine mesh liner is inlaid into the heavy-duty personnel net to catch falling objects such as building debris and dropped tools or equipment.
---
Below are a few of the netting installation projects FallProof has completed: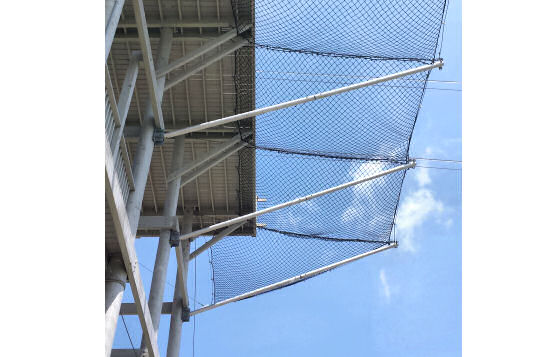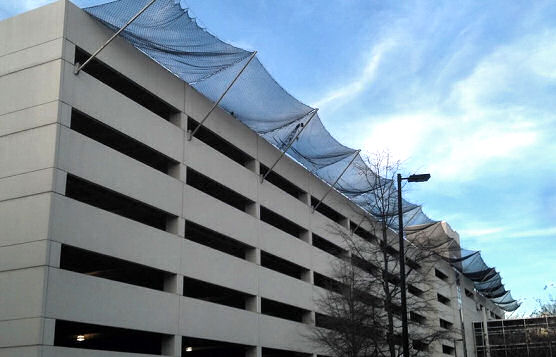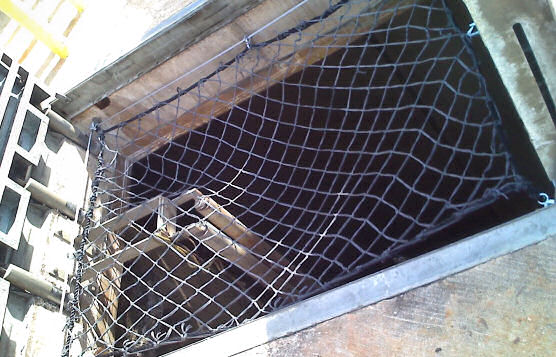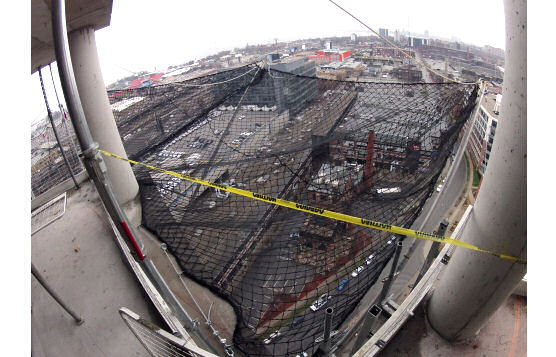 ---
Click to Call
or dial us at 1 (855) 279-2000
---
The following are clients we have provided these services for. Call us to learn more.
Carolina Medical Center, Charlotte, NC (Parking Garage Expansion)
City of Philadelphia (Henry Avenue / Wissahickon Memorial Bridge, Philadelphia, PA)
MB Development, Surfside, FL (New Hotel Development)
New Jersey Department of Transportation (Pulaski Skyway)
New Jersey Transit (Boonton Railroad Bridge, Boonton, NJ)
New York City Department of Transportation (138th Street Bridge / Lift Bridge), Bronx, NY)
Oklahoma Turnpike Authority (Vinita Interstate 44 Service Plaza Overpass)
Port Authority of New York and New Jersey (George Washington Bridge, Ft. Lee, NJ)
Southeastern Pennsylvania Transit Authority / SEPTA (Miscellaneous Bridges)
State of Connecticut (Comstock Covered Bridge, East Hampton, CT)