Bridge Debris Nets Are A Necessity During Renovation or Rehabilitation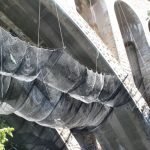 Bridge debris nets provided by FallProof on infrastructure, bridges and other structures include turnkey design, engineering and installation services for debris containment and personnel protection. We also provide netting rentals and training. When needed, our design and engineering services include fabrication, as well as less inclusive options, such as providing nets only for your crew to install, or a trainer to work with your crew to ensure that the system is properly installed. The following are bridge and infrastructure owners we have served:
---




---
Special Care Is Required When Preserving Historic Bridges and Structures
Historical structures typically require special care, advance planning and sometimes custom engineering. FallProof has years of experience in the following scenarios:
Historic Bridges, Such As Covered Bridges and Old Railroad Trestles

– These structures should be equipped with debris containment netting during renovation or rehabilitation work. On many of these structures, no penetration is permitted, such as for eye bolts or other mounting hardware. FallProof maintains a large inventory of brackets from previous jobs that can be reused on similar projects, and we fabricate new brackets where and when needed. For many of these projects, a cantilever netting system is used, with horizontal outrigger poles or brackets. The netting is stretched between the outrigger poles or brackets and also underneath the bridge. This system catches both debris that drops straight down, as well as anything that is wind-blown over the edge.
When A Bridge Is Over A River Or Stream

– The netting prevents wood chips, paint chips, dislodged iron rivets and other objects from falling into the water and contaminating the environment. Generally, any railroad bridge over water that is being updated will require debris nets to be used if railroad ties are being replaced. This is to prevent creosote-soaked railroad ties from polluting the water below.
When A Bridge Is Over A Road Or Railroad Tracks With Low Clearance

– The netting is stretched tight beneath it. This allows cars, trucks, trains and other vehicles to pass underneath without damaging the netting system. Given the age and condition of many bridges in this country, a chunk of concrete or other object may fall before there is any firm plan to repair or replace the structure. In these situations, netting is often installed as a "second skin" around the bridge to hold the entire structure in place for a few years while plans a and budget for a permanent solution can be prepared.
---
Debris Containment Extends To Personnel Safety
Where needed, personnel fall protection nets can be combined with a liner to offer both containment of falling objects and an OSHA-compliant fall protection system. Using this solution avoids the need for each worker at risk of falling to be tied off to a qualified anchorage. This leads to greater freedom of movement and increased productivity.
---
Netting Solutions That Meet Every Need
For any of the above needs, FallProof will provide a full turnkey package, including design, engineering, fabrication, installation and training. We also offer less inclusive options, including either providing nets only for your crew to install, or providing a trainer to work with your crew to ensure that the system is properly installed. Below are examples of a few projects we have completed.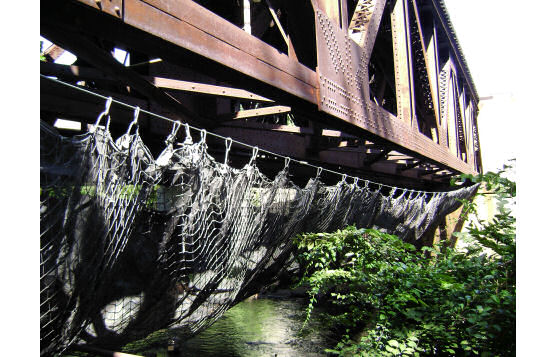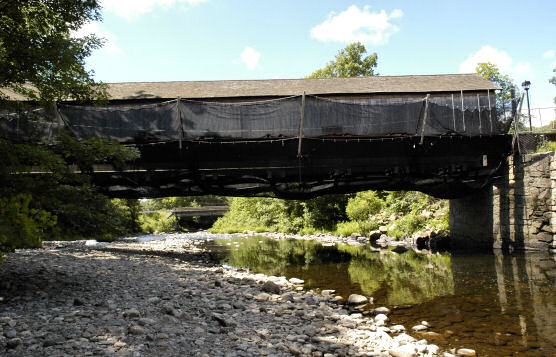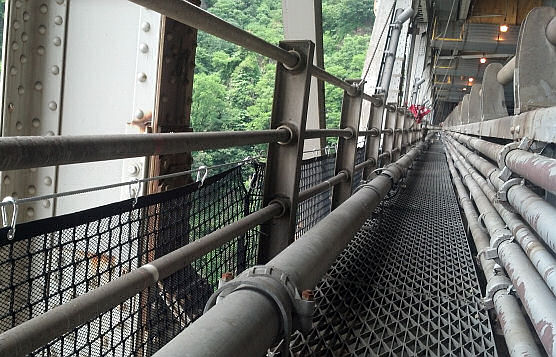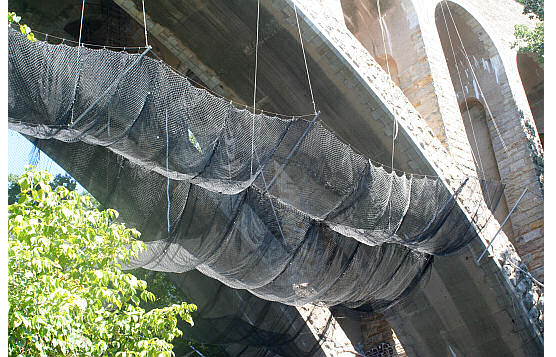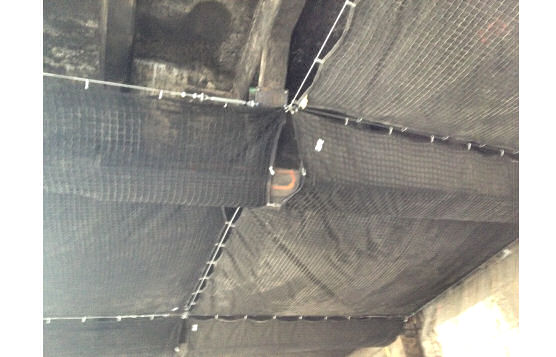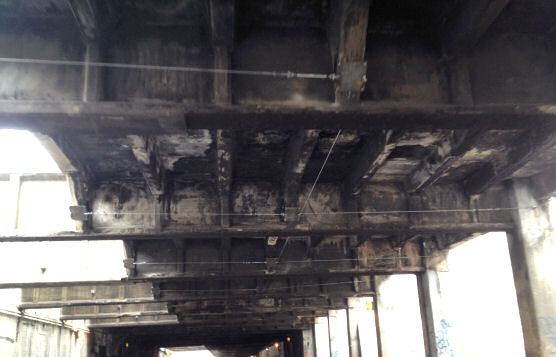 ---
Click to Call
or dial us at 1-(855) 279-2000
---
The following are clients we have provided these services for. Call us to learn more about our installation packages.
City of Philadelphia (Henry Avenue / Wissahickon Memorial Bridge, Philadelphia, PA)
New Jersey Department of Transportation (Pulaski Skyway)
New Jersey Transit (Boonton Railroad Bridge, Boonton, NJ)
New York City Department of Transportation (138th Street Bridge / Lift Bridge), Bronx, NY)
Oklahoma Turnpike Authority (Vinita Interstate 44 Service Plaza Overpass)
Port Authority of New York and New Jersey (George Washington Bridge, Ft. Lee, NJ)
Southeastern Pennsylvania Transit Authority / SEPTA (Miscellaneous Bridges)
State of Connecticut (Comstock Covered Bridge, East Hampton, CT)