Rooftop Guardrail Installation Addresses OSHA-Preferred Passive Fall Protection Solutions
Roof Edge Railings and Kee Walk Anti-Slip Walkways Are Modular and Easy To Install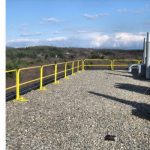 Rooftop guardrail installation encompasses roof-edge railings, Kee Walk anti-slip safe roof walkways, and assorted modular and non-penetrating guardrails that meet OSHA's preferred forms of passive fall protection on multi-level and flat or nearly-flat rooftops. Whether metal or steel modular railings are used, by moving the system to the edge, workers are allowed free movement over the entire work surface, without needing to be tied off or exposed to potential trip hazards caused by lifelines or deadweight anchors.
OSHA regulations require that you have a guardrail along a roof edge if workers will be working within 15 feet of the edge. FallProof offers permanent or temporary safety railing solutions for unprotected edges, and for ledges and roof-to-roof areas where the level drops off more than three feet. The current modular systems are quickly assembled and installed, and come in a variety of colors and styles that will match any building type, such as yellow powder-coated, galvanized, etc. You may opt to use our installers or your own (we will provide detailed instructions and guidance).
---
Guardrail Systems Sometime Require Special Installation Configurations
Guardrail systems should also be installed around rooftop machinery such as large air conditioners, heaters or vent fans, where workers have the potential to fall into, off, or through the machines. Also, safety railing installation is a must around high-voltage equipment, such as generators and electrical boxes, and to provide a "No Access" barrier to any unsafe, non-serviceable areas (i.e., narrow spaces or passages between machinery and roof edges).
FallProof uses modular, non-penetrating guardrail units that meet or exceed OSHA regulations. These railings can easily be installed in special configurations around oddly-shaped roof corners and edges, and along parapets and split-level ledges, so that the entire roof area is enclosed by one continuous fall protection system. Where appropriate, we install toe boards under each railing unit, to prevent tools and debris from being kicked off the side of the roof.
Safety railing sections are usually mounted on standard, non-penetrating base plates, or on L-shaped counterbalance assemblies to keep the guard rails upright along an unprotected roof edge. Some guardrail systems can be attached to the edge using metal clamps. We also offer guardrails with special base plates for installation on non-standard surfaces, such as seam metal, corrugated tin, or gravel. Other styles fold down to lay flat when not in use to preserve the architectural design of the building.
---
Fall Hazards Can Be Avoided With OSHA-Compliant Railings Near Low-Height Parapets
Unprotected roof edges with parapets of less than 3-1/2 feet in height are considered a fall hazard, and require a modification to meet OSHA standards. The most cost-effective solution is usually to add a railing to the wall to raise the total height to at least 42 inches. Modular railing systems are made to address this specific need. These types of railing systems can be, (a) set up on the rooftop just behind the parapets, (b) permanently attached directly to the side of the parapet wall, or (c) mounted on and attached to the parapets using non-penetrating clamps. The guardrail clamps are easy to install, and will not damage copings or flashings.
Also, safety railing for parapets can be set up in a variety of configurations, including split-level guardrails that connect with railing at different heights on the adjacent edges. In this way, an entire surface or section can be encircled by one continuous guardrail system.
---
Kee Walk Rooftop Walkway Systems Serve Many Purposes
Where necessary to protect surfaces from being damaged, FallProof offers Kee Walk installation, a series of unique and innovative products from Kee Safety, which manufactures anti-slip walkways, stairs and catwalks. These modular systems allow assembly and adjustment to fit any need, from crossing over rooftop ductwork, to safely climbing and crossing the ridge to inspection of solar equipment. Sections come in standard sizes but can be cut to length for a custom fit, and we offer design and engineering services.
---
The following are a few examples of the solutions described on this page: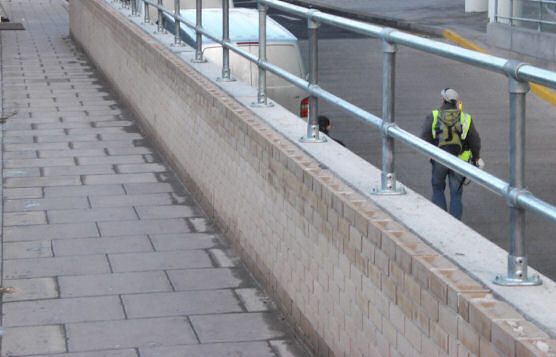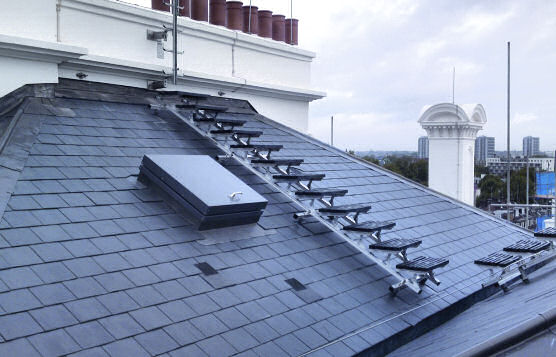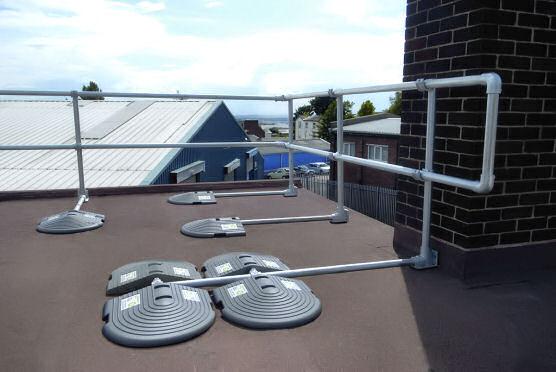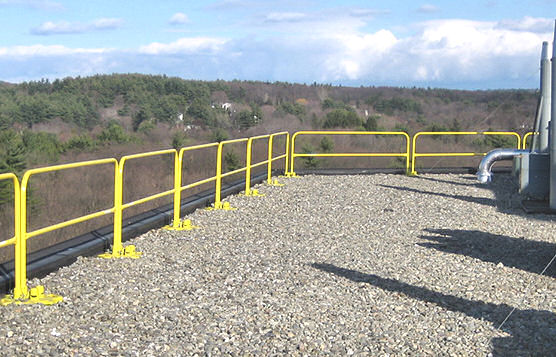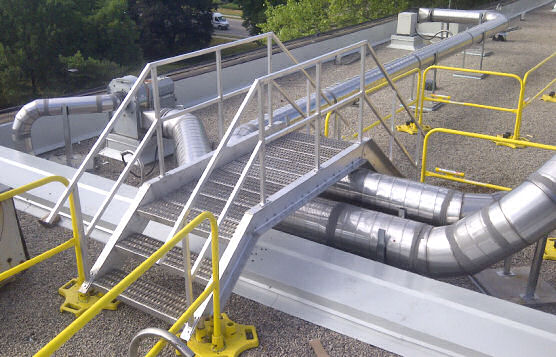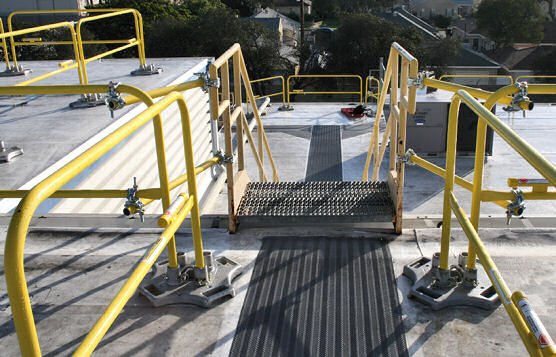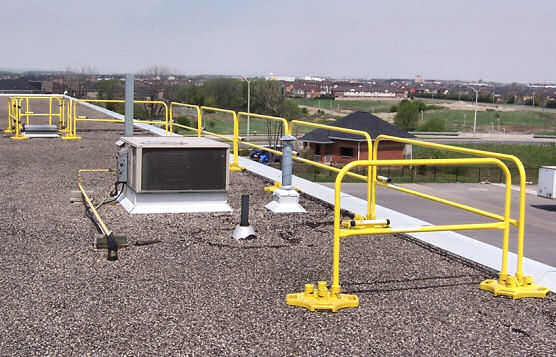 ---
or
dial us at 1-(855) 279-2000
---
We are authorized distributors and installers for the following manufacturers and have served clients nationwide:
BlueWater Manufacturing
Capital Safety/DBI Sala
Kee Safety
Perimeter Protection Products
The Bilco Company
FabEnCo Safety Gates
Guardian Fall Protection
Lapeyre Stairs