Our Guardrail Systems Installation and Related Services Minimize Disruption
Installing Guardrails Encompasses Areas and Equipment Other Than On A Rooftop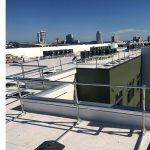 FallProof's services for guardrail systems installation are comprehensive, OSHA and ANSI compliant, and designed to reduce fall hazards, minimize disruption to your workplace and allow us to complete the job efficiently and safely. Our product line includes permanent fixed base and/or non-penetrating guardrails, including for parapet walls, skylight screens, temporary or permanent safety railings and access platforms, as well as rails and safety gates on loading docks and on the factory floor around dangerous equipment.
We frequently arrange for the crane or other lifting equipment to arrive over a weekend, so that materials can be raised when the parking lot is empty. We work with your maintenance personnel to make sure that the loads placed on the roof at staging are at structurally sound locations to protect building integrity, and where necessary, we cover the roof with plywood during installation to protect EPDM and other fragile roof surfaces. Our experienced installers can install nationwide.
---
We Offer Quick Turnaround From Initial Inquiry To Final Installation
We pride ourselves on quick turnaround. We can often go from the initial inquiry to a completed installation in as little as three weeks. During this time period, we lay out the job and build a bill of materials, order product if we do not have it in stock, schedule the installation with your on-site personnel, arrange for any needed cranes, man-lifts or other equipment, and mobilize our crew. Our mission is to create a seamless, one-stop solution that eliminates headaches at your end and ensures that the job is completed safely, on time, and on budget.
---
or
dial us at 1-(855) 279-2000
---
FallProof Systems provides the following solutions for guard rails in a variety of industrial and construction workplaces:
Permanent, Fixed-base and/or Non-Penetrating Guardrails:
For unprotected roof edges, roof ledges, and roof-to-roof areas;
For parapet walls lower than 3-1/2 feet in height;
Around rooftop HVAC machinery, such as air conditioners or vents;
Around roof hatches or floor doors;
For indoor mezzanines, balconies, catwalks, ledges, and elevated work areas;
On or around factory machinery, such as boilers, smelters, or electrical generators;
Around staircases, gangways, access ramps, and loading docks; and
Swing gates, toeboards, and other guardrail accessories.
Temporary Safety Railings:
For high-rise construction work;
For roofing work, rooftop maintenance, or roof inspections;
For skylights, roof hatches, and rooftop fall hazards; and
For portable, temporary skylight screens.
---
We provide the following types of installation services:
On-Site Installation Service – Our personnel will come to your business and install a permanent or temporary railing solution for you. For temporary solutions, we will come back and remove the railing after the work is finished.
On-Site Working Installation Supervisor Service – If you can install your guardrail solution yourself but would like to have a fall safety expert on hand, we can send a FallProof expert to your business to supervise the work and make sure the railing is properly installed.
Off-Site Self-Installation Service – If you think you can handle installing less complex railing systems, and have the manpower to do it, we will send you the solution, along with detailed instructions. After you install the guardrails, FallProof will send a safety expert out to inspect the work and to certify that the equipment has been installed correctly and that it is in compliance with OSHA regulations.
The following slides provide more information about the types of projects we undertake and the types of companies we serve: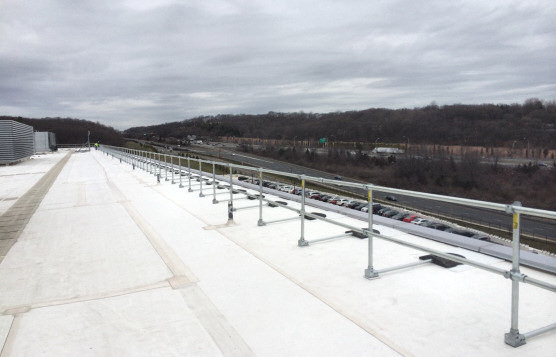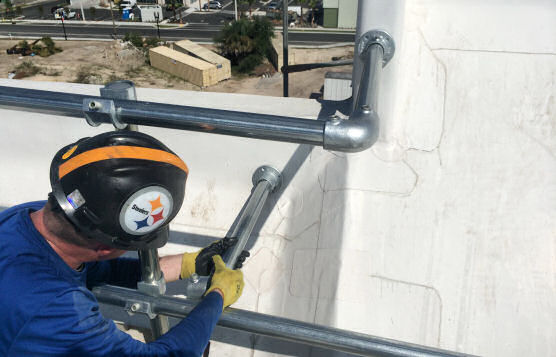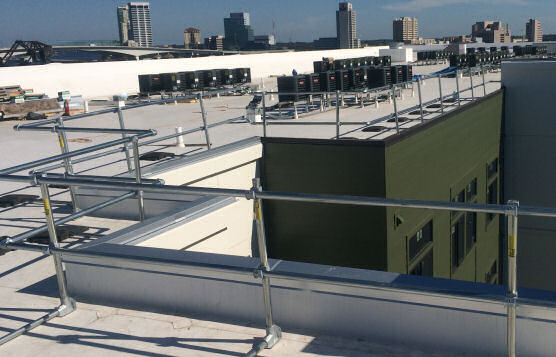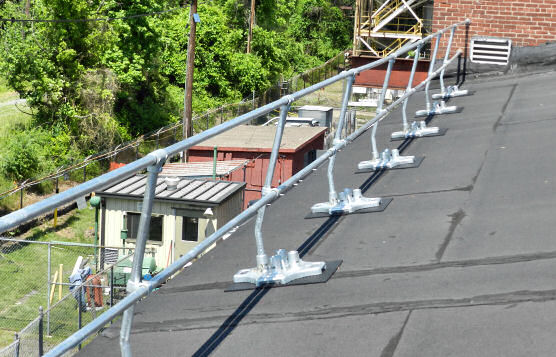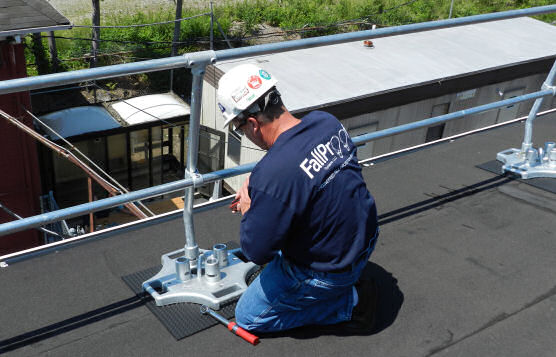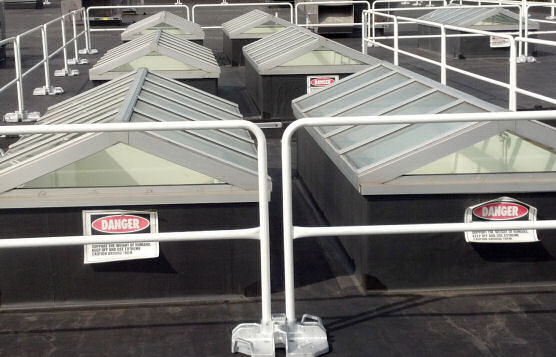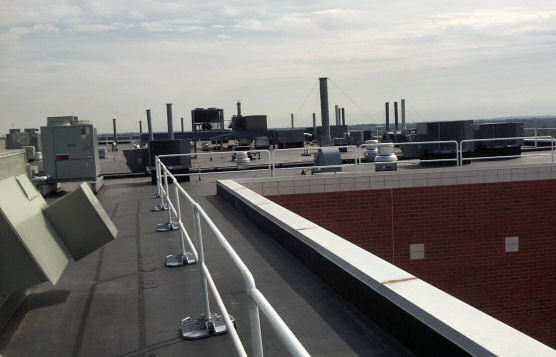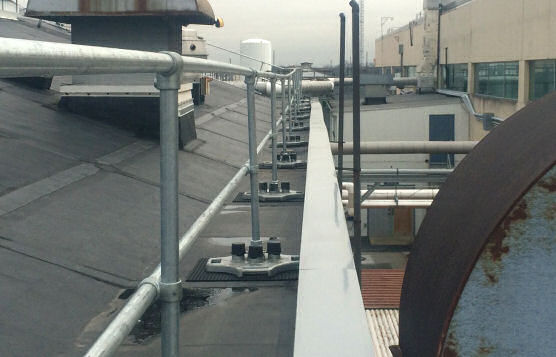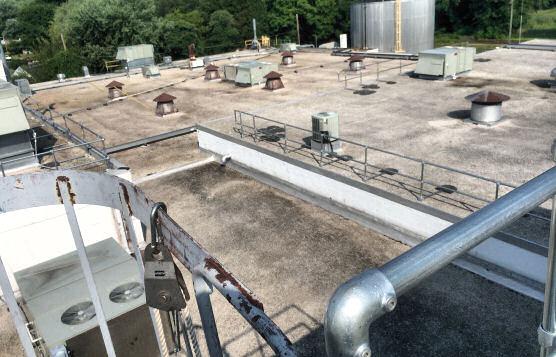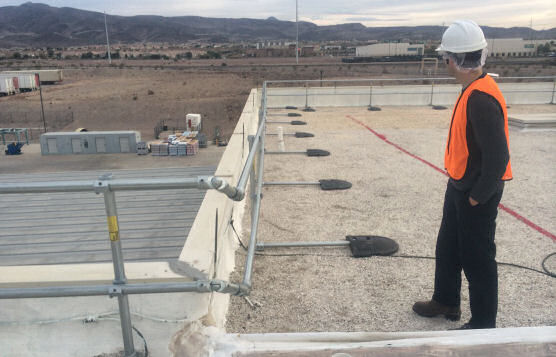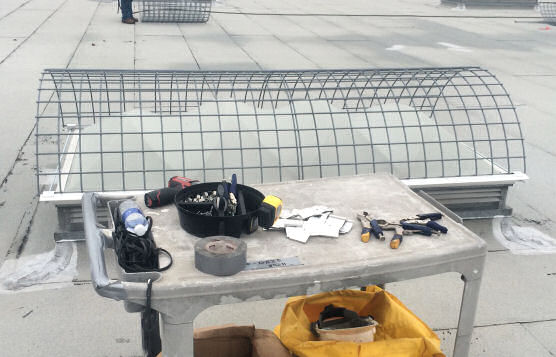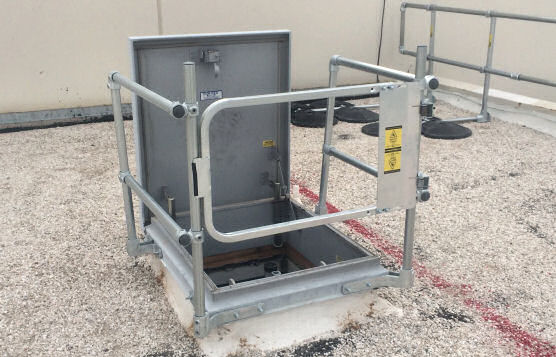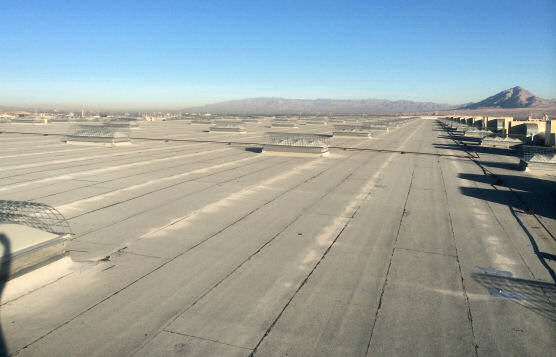 ---
We are authorized distributors and installers of guard rails and safety rail solutions for the following manufacturers:
BlueWater Manufacturing
Capital Safety/DBI Sala
Kee Safety
Perimeter Protection Products
The Bilco Company
FabEnCo Safety Gates
Guardian Fall Protection
Lapeyre Stairs
We have installed the products mentioned above for the following companies:
Canon
Cobham Defense
Exxon Mobil
Gemzyme
Headwaters, Incorporated
IMG
Lehigh Valley Hospital
LifeCell
Lockheed Martin
Ocean Spray
Old Navy
Call today to schedule a free on-site fall protection survey and assessment, and to discuss how we can tailor a system specifically suited to your company's needs that fits within your budget. You also can make a written inquiry and attached drawings that will facilitate our response time in returning a cost estimate.