Awareness Training In The Workplace Is A Necessity, Not A Luxury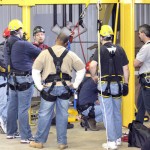 Our fall awareness training is designed for individuals with frequent exposure to fall hazards in the workplace. We often conduct this four-hour course at customer premises where a group of employees can be trained in a cost-effective manner without the logistics involved in traveling to an off-site facility. An added advantage is that workers are trained on the specific equipment they use in their day-to-day environment and can share real-world experiences and concerns.
---
This class is typically offered as group training, and cost varies according to the number of participants. If you have questions or would like a cost quote for a group registration, give us a call. One of our experts also can help you if you are unsure about the training needed. A course description follows.
---
Who Should Attend – Non-supervisory personnel with limited knowledge of hazards in the workplace as they apply to working at height and the procedures required to eliminate them.
Class Size – 25
Course Materials – Reference materials, course completion certificate and wallet card as requested.
Duration: 4 Hours
Cost And Availability – Please call us or submit an online request to inquire about rates and class availability. After a discussion with you, we will email you a link to register and make payment as needed.
---
Click to Call
or dial us at 1-(855) 279-2000
---
Summary: Participants gain knowledge and skills necessary to identify and avoid hazards associated with working at height. Featured content includes a series of presentations, demonstrations and hands-on exercises.
Program Topics:
Overview of fall protection and why it is needed;
Hazard recognition, evaluation and control;
Fall prevention vs. protection;
Basic principles of fall forces (live demonstrations);
Overview of personal fall arrest systems (PFAS);
Selection, use and care;
Equipment inspection procedures;
Proper procedures for equipment usage and wear; and
Field application exercises with demonstrations and hands-on activities.
*Portions of course information were provided courtesy of Miller Fall Protection.