Fall Arrest Protection Is Designed To Catch Workers Once They Fall
Our Full Turnkey Fall Arrest Installation Meets or Exceeds OSHA and ANSI Standards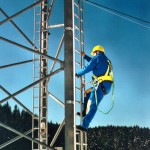 The fall arrest protection FallProof provides includes installation, design and engineering, custom fabrication, equipment certification, and rescue training on a turnkey basis. All of our installations meet or exceed OSHA and ANSI standards. Unlike a fall restraint system, which is designed to keep your employees from falling in the first place, a fall arrest system is designed to catch a worker once they have actually fallen.
---
Analyzing The Fall Hazard Is The First Step In System Design
The first step in design of a fall arrest system is an analysis of the hazard. Assuming the hazard cannot be eliminated, factors to be considered in the selection of the best solution should take into account how and where the workers need to be protected, the available clearance, the structural strength of the building components to which the system will be attached, and how a fallen worker will be rescued if necessary.
There are three primary types of anchorages used: single-point anchor points, horizontal lifelines, which are installed along rooftops, crane rails, catwalks and other elevated work surfaces, and vertical lifelines, which allow workers to safely climb exterior or interior fixed ladders.
---
One Must Be Aware of The ABCDs of Fall Arrest
Any fall arrest system must contain four elements, commonly known as the ABCDs:
"A" Is For Anchorage – An anchorage is the secure point of attachment. It must be designed to withstand the maximum load of force that could be incurred in a fall. The appropriate anchorage varies based on a number of factors, which our engineers consider to identify the right type of anchorage for the specific location and the work being performed.
"B" Is For Body Harness – A full-body harness is available in many different styles; however, they are all designed to spread the forces that could be incurred in a fall away from the head and organs to the large bones and muscles. It is critical that the right harness is selected for the work being done, and that it is sized and adjusted to properly fit the worker who wears it. Improper harness usage is one of the most common safety abuses, and an ill-fitting body harness may cause serious injury if the worker takes a fall and the harness fails to perform in the right way.
"C" Is For Connecting Devices – Connecting devices link a body harness to an anchorage. Two examples that are commonly employed are:
Self-Retracting Lifelines (SRLs): – SRLs come in varying lengths and styles, and contain a mechanism that allows the lifeline to stretch out to its maximum length, and automatically retract when the worker backs up or steps back. Like seat belts, they instantly lock when a sudden force is applied. Because of the retraction and instant locking, SRLs significantly reduce free-fall distance and the consequent stopping forces applied to the body. Historically, SRLs were mounted to the anchorage due to their bulk and weight, with the retractable end attached to the worker's back D-ring. The newer, lightweight personal fall limiters, designed to replace lanyards, are mounted directly to the back D-ring, with the retractable end attached to the anchor point.
Lanyards: – Lanyards have a limited length (i.e., four to six feet), are mounted to the worker's back D-ring, and are attached to an anchor point on or near an elevated work surface. They contain an energy-absorbing shock pack. While lightweight and cheap, they have the disadvantage of greater free-fall distance, and require significantly more fall clearance when compared to an SRL.
"D" Is For Descent (Or Rescue) – Descenders, often overlooked, are used to safely lower a worker to the ground at a controlled speed. In a rescue situation, they are used to retrieve a fallen worker. Rescue systems are designed to connect to an anchor point above the fallen worker and then be attached either to the worker's D-ring or to any part of his or her connecting device. This allows the person to be safely rescued without placing the rescuer at risk.
---
Click on the blue button below to learn more about FallProof's services and how we can help keep your workers safe, or send us a brief note using our quick contact form (top right). You will be able to upload drawings and other materials to help with our preliminary evaluation of your needs.
---
or
dial us at 1-(855) 279-2000
Anchor Points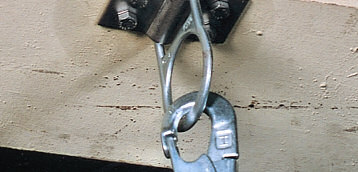 Anchor points, commonly referred to as single-point anchors or anchorage connectors, are another means of active fall arrest protection. Probably the most versatile method of fall protection, these devices can be installed over tanks, for rooftop maintenance work, used with lifelines, on construction sites, etc. Anchorage connectors come in both temporary and permanent applications for added versatility.
Davit Arms Systems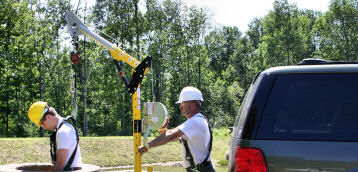 Davit arms systems are commonly used in confined space applications where rescue and retrieval are necessary if something goes wrong. They can be mounted outside a confined space worksite, allowing a worker to be lowered or raised while providing 100% tie off. Davit arms allow for single-man rescue and/or retrieval and comply with OSHA regulation 1910.146. They are available in many temporary and permanent setups and are easy to adapt to the job as needed.
Fall Restraint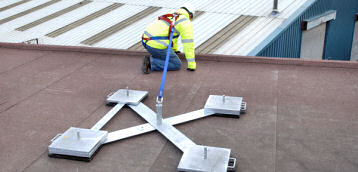 Fall restraint systems are active fall protection that limit worker movements to a contained area, thus preventing a fall by restricting access to the hazard, such as a rooftop edge. These systems can be both permanent and temporary.
Horizontal Lifelines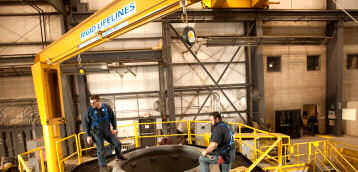 Horizontal lifeline systems are used in applications where fall protection is needed for elevated work surfaces that run parallel to the ground. This might include fall protection over chemical or food processing equipment, conveyer belts, railcar unloading, etc.
Swing Arms and Jib Arms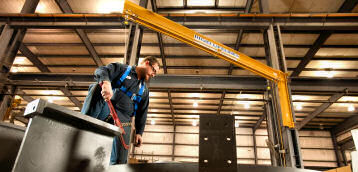 Swing and jib arms are used in fall arrest systems that are designed for workers on elevated work surfaces who need to perform their duties within a circular or semicircular area. With a mast attached to a pivoting bracket, they follow a worker as they move about a work surface, providing a direct overhead anchorage point. This eliminates the swing hazard should a fall occur. Found in trucking and railcar operations, as well as manufacturing, these versatile systems allow freedom of movement, thus reducing the impact or strain on the worker who uses it.
Vertical Lifelines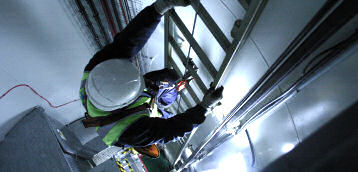 Vertical lifeline systems are used in situations where fall arrest protection is needed for a worker who is operating perpendicular to the ground surface and is in need of being tied off. Applications include roof access ladders, wind turbines, towers, etc. Vertical lifelines provide active protection to a worker who is ascending or descending a ladder.