FallProof Competent Person Training Includes Certification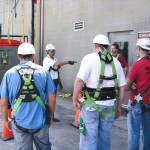 Our competent person training for fall protection is designed for facility and site supervisors who are designated by their employer as the "competent person", and certification is provided on completion. This individual must be capable of identifying existing and predictable hazards in the surroundings or working conditions which are unsanitary, hazardous, or dangerous to employees, and must have authorization to take prompt corrective measures to eliminate them.
---
We also offer small and large group awareness and equipment inspection training. If you are unsure about the training needed, give us a call, and one of our experts can assist you.
---
Click to Call
or dial us at 1-(855) 279-2000
---
Who Should Attend – Facility and site supervisors who also must serve as the competent person required by OSHA 1926.32(f), 1926.500 and 1910 standards.
Class Size – Limited to 20 participants (class also available in Spanish).
Course Materials – Reference materials including fall protection plan outline, course completion certificate and wallet card as requested.
Duration – 16 Hours (8 hours over 2 days, 8:00 a.m. – 5:00 p.m.)
Cost And Availability – Please call us or submit an online request to inquire about rates and class availability. After a discussion with you, we will email you a link to register and make payment as needed.
---
Summary: Our two-day course is facility and site supervisors who must also serve as the competent person required by OSHA 1926.32(f), 1926.500 and 1910 standards. It prepares individuals for this role through extensive analysis and discussion of both OSHA standards and real-world examples of fall hazards and alternatives to either eliminate or mitigate them. Participants are encouraged to discuss actual situations that exist in their workplace to benefit from the experience of the FallProof instructors who design and install systems and solutions on a full-time basis. Our training center contains many different types of equipment, reinforcing the learning process by providing the "touch and feel" that cannot be experienced in a classroom-only course.
In the hands-on portion of the course, students work together to "rescue" other students, and experience first-hand the confusion that can arise in an emergency situation, demonstrating the importance of having a plan in place and rehearsed before the need to use it arises. By hanging in a harness for several minutes while waiting to be rescued, they will gain a greater appreciation for the OSHA requirement that a rescue be prompt in order to prevent suspension trauma, and understand the need for a descent system or other rescue device to be on premises and close at hand to be effective.
After taking the course, students will better understand the responsibility of every employer to provide a workplace that is safe from recognized fall hazards, and will be ready to design and implement a plan for their employer to create a more safe work environment. They will be prepared to identify, assess, eliminate or control fall hazards, have an understanding of the systems and methods used to protect workers, be able to calculate the clearance required for any combination of fall arrest systems and PPE being used, and have an understanding of applicable OSHA regulations and ANSI standards. Many participants have said the course book is an important part of their library, and is referred to often when they come across something new.
Program Topics:
Overview of fall protection and why it is needed;
Hazard analysis, including recognition of hazards, evaluation criteria and control measures;
Fall prevention vs. protection;
General principles, including calculations of fall and total fall distance, as well as minimizing fall forces (live demonstrations);
Overview of personal fall arrest systems (PFAS) with hands-on exercises, including inspection and donning procedures, fit test and selection, application and care of equipment;
Fall protection on aerial lifts and ladders rescue, including fall victim, first on the scene, and self-rescue and assisted self-rescue; and
Fall hazard task evaluation (exercise requiring hazard analysis, as well as Subpart M (exercise) and competent person inspection (hands-on practicum).
*Source: Portions of course information were provided courtesy of Miller Fall Protection.