Can skylight screens be custom engineered to fit over skylights with an irregular shape and size?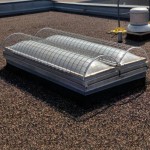 Skylight screens are a form of rooftop fall protection that can be retrofitted and installed on top of existing skylights to prevent workers or other employees on the roof from accidentally falling through if they are unprotected or open. These systems are sometimes referred to as safety covers and can be custom designed to fit over any irregular or odd-shaped skylight as needed.
They are fastened to the existing frame by a compression-fitted, non-penetrating design that eliminates any damage to the light or the rooftop membrane. The components are generally made out of galvanized steel and metal to withstand harsh weather elements.
Skylight screens are generally the easiest and most cost-effective solution for protecting an end user from fall hazards. Other alternatives, such as non-penetrating rooftop safety railings are available and will work for the intended application; however, these systems tend to be bulkier and more expensive. One consideration for the installation of roof safety railing over screens might be for aesthetic purposes, such as to avoid shadows. This is, of course, a personal decision that involves weighing the options of cost versus design preferences. Overall, these systems have become mainstream solutions for protecting workers who need access to a roof to perform maintenance or other activities.
Hand in hand with the fall protection consulting services we provide to businesses nationwide, we routinely are asked to provide custom design and engineering for challenging scenarios.
View All FAQs.