Do anchor points have certified and non-certified ratings, and if yes, what are they?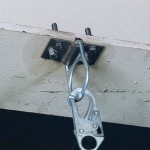 Non-certified anchor points need to withstand a 5000-lb. force. Certified anchor points, on the other hand, which are generally signed off on by a fall protection engineer, are capable of withstanding two times the maximum arresting force for the deployment of the fall protection system.
For example, if self-retracting lifelines have a maximum arresting force of 900 lbs., the anchor point must be capable of holding 1800 lbs.
View All FAQs.