How often am I required to make fall protection equipment inspections?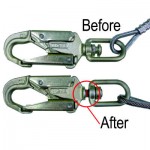 Fall protection equipment inspections are mandated by OSHA to be performed after a fall of any kind. All equipment would need to be taken out of service and inspected and repaired before returning it to service.
As far as routine inspections go, all manufacturers request an inspection by the worker before each use, as well as annually by a competent person. All annual inspections should be documented and the equipment tagged as having been inspected.
View All FAQs.