What is the primary difference between self-retracting lifelines and fall protection lanyards?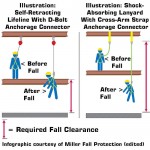 Simple; how far do you want to fall? Most common self-retracting lifelines have a fall clearance of 6-½ feet. Some newer personal fall limiters (a smaller SRL) have reduced that to 5 feet; however, lanyards have a drastically greater fall clearance at 18-½ feet.
When calculating required fall distances in the design and engineering phase of the fall protection system, this is a HUGE difference.
View All FAQs.