5 Safety Tips When Working At Heights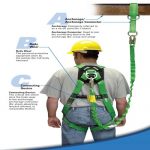 A simple question we get every day is…." Can you just give me some simple tips when my crew is working at heights?"
Well, yes, we can. First of all, falls are deadly! You must be prepared to protect your employees when working at heights. Working at heights refers to any work that is above ground in which a person could injure themselves if no precaution is taken. Fall protection is required when there is a fall greater than 6 feet within a 6 foot leading unprotected edge. Now that we have the simple prerequisites determined, here's what to do: 
1. Select the Proper PPE
If you've determined to use Personal Fall Arrest Systems (PFAS), you need to ensure you're choosing the proper equipment. All full-body harness equipment should meet ANSI standards. Ensure it's functionality, is of fire-proof material or arc-safe design. Do your research and decide what you need for the job. Make sure your workers can properly adjust and know how to fit their harnesses properly.
Don't forget lanyards need to be properly selected as well. Each situation is different. Depending on the height at which you are working, a 6 foot lanyard with a deceleration device will not protect your worker. Instead, a retractable lanyard may be necessary. Evaluate your working conditions, each situation is different.
2. Ensure You Understand Fall Distance
If your fall protection equipment allows you to hit the lower level before it engages, what's the point? Why even wear it at all? This is not just a "common sense" statement, we need to understand. See below for fall distance calculator. Your actual fall distance needs not only include the length of your lanyard when deployed, but also your body length below the D-ring and also any sag in your harness.
3. Selection of Acceptable Anchor Point
Please note there are more unacceptable anchor points than there are acceptable anchor points. Why? Because the anchor point must support 5000 lbs. per person attached. Short of this, you'll need documentation and an engineer's approval to use something as an anchor point.
4. Inspect Your PPE
If you're providing the PPE for your employees, you've inspected it before giving it to the employee. It is their responsibility to inspect it prior to use each day. When it comes to harnesses and lanyards, they do need to be inspected by a Competent Person ensure they are acceptable and what to do if they find a problem. Are they exposed to paint or dust on a daily basis? This doesn't have to take a lot of time. It's a pre-work check that can be brief, but could save a life.
5. Train, Train, Train, and what's that? Yes, Train.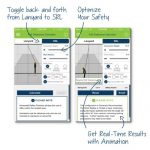 It can't be stressed enough, if you want your employees to work safely at heights, they must be properly trained. Not only is training required by law, but there is also too much room for error or let's not forget confusion, when it comes to a person without the proper knowledge trying to protect themselves at heights. Check employees fall protection equipment and their knowledge retention periodically.
In summary, falls are the leading killer in construction each year. Falls are deadly! Ensure your employees have the knowledge they need to keep themselves safe.
Check out the Miller Fall Protection Clearance Calculator here: https://www.millerfalltraining.com/fallclearance/