2018 Workplace Fall Fatalities by Industry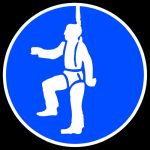 This blog is brought to you by FallProof Systems to educate our clients and colleagues on the fall risks associated with different workplaces and jobs.
43% of workplace fall fatalities were in the construction industry. Injuries and illnesses from falls are considered preventable incidents that can be minimized or reduced with proper fall protection. Are you in compliance?
Fall Protection Statistics
Fatal injuries raised to 5,280 in 2018 which was an increase of 2% from 2017. While it seems small, it's the highest number of workplace fatalities since 2007.
(see chart below)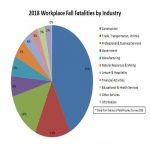 Construction fall fatalities continue to lead all other industries, more than triple the next highest-ranking industry (trade, transportation and utilities). In 2018, construction workers suffered 338 fatal fall injuries.
The good news: while nonfatal injuries due to falls were on the rise in 2018, fatalities resulting from falls declined. Why? Proper fall protection!
Why is fall protection important?
Falls are among the most common causes of serious work-related injuries and deaths.
What can be done to reduce falls?
Employers must set up the workplace to prevent employees from falling off overhead platforms, elevated workstations or into holes in the floor. OSHA requires that fall protection be provided at elevations of 4 feet in general industry, 5 feet in shipyards, 6 feet in the construction industry and 8 feet in longshoring operations. In addition, OSHA requires that fall protection be provided when working over dangerous equipment and machinery, regardless of the fall distance.