A Review of the ABCs of Fall Protection
Fall Protection Basics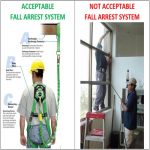 Working at heights can be challenging and difficult. The best way for workers to protect themselves is to remember the basics of fall protection systems. The basics consist of an understanding of the ABC's of fall protection. The ABC's of Fall Protection consist of (A) anchorage; (B)body wear, and (C) connectors and can be also known as a PFAS- personal fall arrest system. Although the basics can be boring and simplistic an understanding of them can save your life!
The ABC's: Anchorage; Body Wear; and Connector which comprise a Personal Fall Arrest System is defined as follow:
An Anchor Point – is a secure point of attachment to a structure. Anchoring Devices – or anchorage come in a variety of forms and can be temporary or permanent. Examples of Anchor Points are I-Beam, rebar, rigid tracks, horizontal lifelines.
Body Wear – a full body harnesses allow for maximum range of motion while still providing body support in the event of a fall. They are designed to distribute the force of a fall throughout the trunk of the body.
Connector – the connector attaches the body harness to the anchor point. They come in many forms the most common being a fixed-length absorbing lanyard or a self retracting lifeline.
Personal Fall Arrest Systems Requirements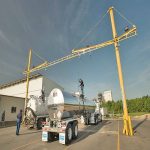 A Personal Fall Arrest System is required if any risk exists that a worker may fall from an elevated position. OSHA mandates the use of a Personal Fall Arrest System when there is a potential for a fall within the given criteria for Construction and General Industry. Fall protection itself is required anytime a worker reaches a height of four or more feet for general industry and six or more feet for construction. Understanding how each piece of equipment works can ultimately save a worker's life and keep them safe while they work.
For instance, a worker can be wearing a harness and have a lanyard connected to unsafe anchor such as a rusty wire. If the worker falls that anchor will not hold and send the worker falling to his death or serious injury. Whether a Fall Protection System is a work positioning system, fall or travel restraint system, or a fall arrest system, a properly used anchorage, body wear, and connecting device are always used by a worker.
Start With the ABCs of Fall Protection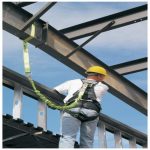 Fall Protection Systems come in many different applications and systems, but it all starts with the basics. The basics start with an understanding of the ABC's of fall protection and each category. Anchorage, Body Wear, and Connectors– an understanding means how the equipment is used and that the equipment is safe for use. Workers are responsible to inspect their PPE before each use and employers are responsible to train their workers on the proper use of the PPE. Easily overlooked and sometimes undervalued because of its simplicity, understating the ABC'S of fall protection and how it applies to your working environment can save lives!