Aviation Fall Protection and Aircraft Hangars: What You Need To Know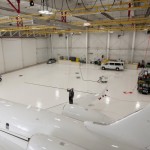 Aviation fall protection involves numerous scenarios in the aviation industry wherein different types of systems are necessary for personnel safety and compliance with OSHA regulations. Engineers, inspectors and maintenance workers are subject to fall hazards while on the roofs and wings of airplanes or helicopters in a manufacturing facility or aircraft hangar. Therefore, they need to use fall protection equipment that is dictated by several factors, including the type, model, and size of aircraft and the layout of the facility itself. The more common solutions include:
Horizontal Fixed-Track Lifelines
In an aviation factory, aircraft hangar or other maintenance facility, horizontal fixed-track lifelines are usually the best option. A fixed lifeline track (or rigid track) is mounted on ceiling beams above the work area. A self-retracting lifeline (SRL) is then attached, so that the SRL's trolley slides back and forth on the track, providing mobility as work is performed on the roof or wings.
As with a rail yard or truck maintenance facility, aircraft needing service are moved in and out of the area underneath the horizontal lifeline system. For small jets (like Gulfstreams), which have a low fall clearance, fixed-track lifelines provide excellent fall safety coverage. A single, ceiling-mounted fixed-track lifeline will provide the worker with both fall protection and mobility over the entire aircraft.
If large aircraft (such as 737s or 747s) are being serviced in the facility, separate lifeline tracks can be mounted on the ceiling at various angles to provide full coverage for workers over the wings, fuselage and tail section.
"Free Floating" Fixed-Track Lifeline Systems
A "free floating" fixed-track lifeline system performs similar to a gantry crane. The fixed track is mounted crosswise on a pair of overhead rails on the facility ceiling. The mounted track can then be moved back and forth across the ceiling on the overhead rails, while the SRL trolley allows the worker to move left and right along the fixed track. This gives the worker maximum mobility along an X/Y axis.
"Free floating" fixed-track systems are ideal for aviation facilities where both large and small aircraft are being moved in and serviced. However, fixed-track systems are expensive, so many aircraft facilities choose instead to install horizontal cable lifelines.
Horizontal Cable Lifelines
Horizontal cable lifelines can also be installed in a hangar or aviation facility. In this setup, two anchor points are attached to a ceiling beam above work area, and a horizontal cable is strung between them. An SRL trolley is then attached to the cable, and moves back and forth as the workers conduct maintenance tasks below.
A horizontal cable lifeline can provide fall protection over very long runs (e.g., the fuselage of a 747), and it is considerably less expensive than a fixed-track system, but a horizontal lifeline might not be the most practical solution for aviation. In the event of a fall, the cable will "play out" longer than with a fixed-track system, due to sag caused by the natural elasticity of the horizontal cable and the deployment of the shock absorber.
This can be a hazard, because the SRL may not be able to arrest a worker's fall before they hit the ground. For this reason, horizontal cable lifelines should not be used when servicing small aircraft, which have a lower fall clearance. They should only be used in aviation facilities where large aircraft such as 747s are being serviced.
Aircraft Maintenance Access Platforms
In aviation factories, maintenance access platforms are often constructed around large aircraft as they are being built. They often are a good choice for ongoing work (such as restoration work) on a large jets. They usually come in prefabricated modular units, and can be put together in a variety of configurations to conform to the shape of the aircraft being built or serviced. These platforms contain guardrails that protect against falls.
Portable Fixed-Track Lifeline Systems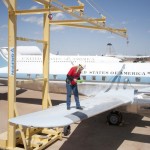 Certain portable fixed-track lifeline systems, such as the Griffin, can be used in an aircraft facility. For example, inside an airplane hangar, a Griffin can be moved around and placed over small aircraft, such as helicopters, which are not easily moved themselves. This way, you bring the lifeline system to the aircraft, instead of the other way around.
However, the Griffin is cumbersome to move, and is not always the most practical solution for indoor settings. You need a large hangar with plenty of space between the aircraft. The Griffin works better in outdoor settings, such as airport tarmacs, where there is room to move it around as needed.
Portable Aircraft Vacuum Anchors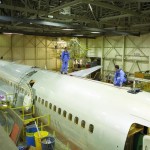 Several companies manufacture a single-point anchor that can be attached to the roof or wing of a large aircraft using vacuum suction. A short tether can then be attached to the anchors to serve as a fall restraint system for a worker, preventing them from getting too close to the edge and falling off.
Several separate anchors can be attached along a roof or wing surface, so that multiple workers can work on the aircraft in several places at once. Alternately, two vacuum anchors can be attached on opposite ends of a fuselage or wing, and a horizontal cable strung between the two anchor points. Workers can then attach their SRLs to the horizontal cable and move back and forth along the roof or wing as they work.