Fall Protection Anchor Points: When Custom Design, Fabrication and Installation Might Be Needed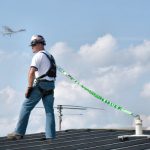 Fall protection anchor points are a versatile tool that with proper design, installation and use can protect workers in a variety of situations. Without all three of these factors being present, there is the possibility that a worker may have the illusion of being protected with the reality of being no more safe than working without any fall protection at all.
---
The Specific Work Location Dictates The Type of Anchor Points Needed
Off-the-shelf components such as a fall protection-rated D-Bolt properly attached directly to an I-Beam or other structural member of a building can be inexpensive and practical. However, in many instances, the specific work location requiring exposure to a fall hazard may not have a readily available and easily reached attachment point that will withstand the potential force generated by a falling worker.
---
OSHA Defines How Anchorages Should Be Used With Fall Arrest Equipment
OSHA's general rule governing strength requirements for anchor points is contained in its regulation Section 502(d)(15), which provides that, "Anchorages used for attachment of personal fall arrest equipment shall be independent of any anchorage being used to support or suspend platforms and capable of supporting at least 5,000 pounds (22.2 kN) per employee attached . . .".
Because OSHA realizes that workers may need access to fall protection in many situations where an attachment point capable of supporting 5,000 pounds is simply not available, the regulation goes on to provide an extremely important exception: "or shall be designed, installed, and used as follows: (d)(15)(i) as part of a complete personal fall arrest system which maintains a safety factor of at least two; and (d)(15)(ii) under the supervision of a qualified person."
---
Limiting Maximum Arresting Force On The Body With The Use of Proper Equipment
Currently, a variety of self-retracting lanyards (SRLs) and personal fall limiters (PFLs) are available that limit the maximum arresting force imposed on the body at one end of the connection and the anchor point on the other end to 900 pounds. Combined with the exception to the general rule, this means that an anchor point designed to protect a single worker using the proper equipment need only be able to support 1,800 pounds rather than 5,000 pounds. This reduced load requirement opens up a greatly expanded range of options.
---
Examining The Exception To The General Rule Pertaining To Fall Arrest Protection
Before going into scenarios where the exception might be used, it should be noted that there are two specific requirements for the general rule exception to apply. The overriding requirement is that the anchorage must be "designed, installed and used" in accordance with the two requirements. All three must apply. Any system that meets only two of these factors, such as being properly designed and installed, but improperly used, does not protect the worker and does not meet the OSHA requirement.
First, it must be "part of a complete personal fall arrest system", which has three components: the anchorage, or tie-off point, the full-body harness, and the connecting device — in this case, the SRL or PFL. In general, an SRL is connected to the anchorage and attached to the back D-Ring on the body harness when in use, whereas, the PFL is connected to the back D-Ring on the body harness and attached to the anchorage when in use. SRLs come in lengths of up to 100 feet and can weigh 35 pounds or more, and PFL's can weigh as little as 2 pounds, but the length is limited to 6 or 9 feet in most instances. For some specific applications an SRL would be more appropriate, whereas, in others a PFL would be better.
Second, the design, installation and use of the system must be "under the supervision of a qualified person". Pursuant to OSHA Regulation Section 1926.32(m), "'Qualified' means one who, by possession of a recognized degree, certificate, or professional standing, or who by extensive knowledge, training, and experience, has successfully demonstrated his ability to solve or resolve problems relating to the subject matter, the work, or the project."
In a typical scenario, a structural engineer might be qualified to design a system, an experienced and trained technician to install the system, and a trained EHS employee qualified to supervise use of the system. Typical uses for custom designed anchor points would include the following locations where required mobility is limited:
Maintenance of manufacturing equipment;
Process equipment such as used in the pharmaceutical and food industries;
Specialized R&D equipment;
Rooftop maintenance of surveillance, lighting, HVAC and security equipment;
Window washing applications;
Settling tank maintenance, floor openings and other water treatment plant specificities;
Maintenance of rigging and stage lighting in theaters and television sets, etc.
FallProof has extensive experience in the design and installation of custom single point anchors, and in training users how to stay safe. Call us to discuss the protection of your company's most valuable assets by clicking the blue button below, or by dialing us at 1-(855) 279-2000.