Fall Protection Design and Engineering: The Challenge For Multi-Level Rooftops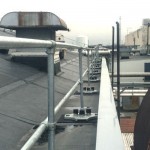 Numerous fall protection design and engineering challenges are presented for guardrail systems installation on multi-level rooftops. This article discusses the issues faced by designers, engineers and individuals responsible for the installation.
Design and Engineering
The design and engineering of modular rooftop railings should reflect aesthetic, cost and coverage factors, such as how will it look, how much will it cost, and will workers be afforded protection in all situations where they would be exposed to a fall hazard.
Most major manufacturers of rooftop railings have both standard and premium lines. A safety yellow powder-coated system that would be appropriate for a manufacturing plant might look completely out of place on a glass and steel headquarters building. Where the sight line or building profile is an important consideration for architectural integrity, either inclined roof-edge railings or a fold-away system may be most appropriate. Custom colors and galvanization are available where needed to meet the requirements of a specific location. Fiberglass rails are used where telecommunication equipment is present and metal would interfere with the RF signals.
In some instances, such as when the only time workers need to access the roof is for HVAC maintenance on a single piece of equipment, adequate coverage can be economically achieved through guardrails that only protect the edge near the work area. At the other extreme, a green or "living roof" will have maintenance workers present on a continuous, frequent basis.
With multi-level roofs, access and egress points, transition zones and work areas all should be considered. If a ladder is used for access, an OSHA-compliant, non-penetrating grab bar assembly can be mounted to the ladder and roof to protect workers. When combined with safety railings and roof-edge railings, complete perimeter protection can be obtained. Adding skylight screens or railings and/or roof hatch protectors is also part of a complete solution.
Frequently, when adjacent roofs are at different levels, the higher roof contains a low parapet wall to delineate the edge. If the difference in levels is four feet or more and personnel will be working in the area, the low parapet does not provide adequate fall protection to meet OSHA standards. This can be rectified by adding parapet railing that can be attached to the side, the top, or behind the parapet wall. When stairs or ladders are used by workers to transition from one roof to another, the use of safety railings and self-closing gates should be considered.
Lastly, the composition of the roof must be considered. On many roofs, the weighted bases of a non-penetrating modular guardrail system can be placed directly on the roof. Special pads are available to protect EPDM membranes, and base plates that grab the seams of a standing seam roof can be used with most railing systems.
Installation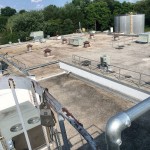 Installation can be complicated by the fact that multi-level roofs are often encountered in large building complexes where the edges needing protection are located near the center of the complex, and not near the edge where lifting equipment can place the material near the work area.
In some cases, a larger crane with greater reach can be used, and in others, wagons or other manual transport systems are necessary. In either case, care should be taken to ensure that the staging area on the roof has the structural strength necessary to support the concentrated weight of the system before it is distributed to the installation areas. For larger jobs, the guardrails and bases are often staged on the ground and only lifted as needed to avoid over loading a section of the roof.
Do you have a specific question about your multi-level roof? Contact one of our experts about the solutions available to protect your workers.