Fall Protection For Universities and Colleges: Hazards Abound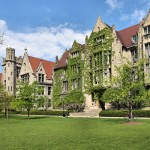 At first glance, fall protection for universities and colleges is not something you would think there is much need for, but fall hazards abound nevertheless.  Take a critical look around any university or college campus, and you will often find numerous work areas where maintenance people, contractors, and even students might encounter dangerous hazards.  The following are some of the more common areas on college campuses that should not be overlooked:
Rooftops: OSHA Regulates the Work Environment
On most college campuses, you will find buildings in a range of architectural styles, including "Greek Temple" administration halls and libraries, "Collegiate Gothic" classroom buildings, condo-like student dormitories, and 10-story high-rise towers where the professors keep their offices and office hours.
Any building on campus might have some kind of rooftop fall hazard. According to OSHA regulations, if any work is to be done on a rooftop – be it repair work, gutter cleaning, snow removal, cleaning of air conditioners and vents, etc. – the workers must be provided with adequate fall protection, according to the work environment.
This might be as simple as setting up a portable, temporary guardrail along the unprotected edge of a flat roof, or attaching a non-penetrating guardrail system to a rooftop parapet that is less than forty-two inches in height. Other features – such as hatches, skylights, chimneys, etc. – will also need to have permanent or temporary guardrails installed around them during rooftop work (see below).
Whether a university rooftop needs to have a permanent solution installed on it depends on the layout and the nature and frequency of work done on the roof. For example, if a classroom building has a pitched roof that maintenance workers need to frequently access to service HVAC equipment located near the edge, horizontal cable lifelines or single-point anchors can be installed. Workers should then be required to wear a fall restraint harness attached to the anchorage connectors using a self-retracting lifeline (SRL) while working. In the event of a slip or fall, the SRL will lock up and prevent them from falling over the edge.
Green Roofs: Environmentally Friendly, But Danger Lurks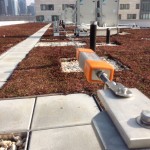 Many universities are now installing "green roofs" containing lawns of green grass or gardens of plants and shrubs on the flat roofs of campus buildings. A green roof has environmental benefits (i.e. it provides natural cooling to the building), but it also requires frequent maintenance. For example, botany students and caretakers must often cut grass, pull weeds, and do other gardening activities.
At the very least, a green roof should have a guardrail system set up along any unprotected edges, even if this means encircling the entire perimeter with a guardrail. Also, skylight openings should be treated as an unprotected edge. Any person who regularly works on the green roof should be made aware of the potential fall hazards and how to avoid them.
Debris Netting: Older University Buildings Present Inconspicuous Hazards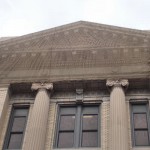 Technically, this is not a fall protection solution, but it should be mentioned. Sometimes, older university buildings, such as libraries, have a problem with old moldings, plaster, chunks of concrete, pieces of statues and gargoyles, and other exterior decorations falling off their structure.
These falling pieces of debris have the potential to injure passing pedestrians. One solution is to install debris netting around an older building's deteriorating moldings, statues, etc., until repair work can be done to restore those architectural features.
Vertical Ladders and Water Towers: Accidents Are Waiting To Happen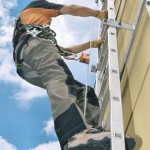 Sometimes, university buildings have vertical ladders attached to their outside walls. Also, some older campuses have a water tower or observatory towers. These ladders should be outfitted with a vertical cable, fixed track lifeline or an SRL to protect users while ascending and descending the ladder.
Theaters, Sports Arenas and Stadiums:  Keeping Workers At Height Safe
Many universities have traditional, proscenium-arch theaters, with both a catwalk and work platforms in the backstage area. These hazardous work areas can be 60 to 80 feet above the stage.
University theater personnel, including students who serve as stage hands or lighting technicians, must be protected. Appropriate protection can consist of various combinations of guardrails, horizontal and vertical cable or fixed track lifelines, single-point anchors, and SRLs. Acoustically and visually transparent netting is often used above the orchestra pit to protect both an actor who might accidentally fall from the stage and the musicians below.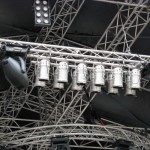 In addition, in any situation where workers are working at height in a university sports arena or stadium – such as replacing lights or speakers in the inner roof of an indoor basketball pavilion – their safety and protection are regulated by OSHA. We regularly survey these facilities and recommend appropriate means and methods to keep everyone safe.
Planning for Universities and Colleges:  An Inspection Likely Is In Order
If you are a safety director or physical plant supervisor at a university or college, it is a good idea to make an inspection of all rooftops and other elevated work areas on your campus to identify potential fall hazards. You also should talk to any maintenance personnel who perform duties at height, and ask them where they have found fall hazards, and what kinds of personal protective equipment (PPE) they would prefer to have on the job.
Even better, you might want to have a qualified safety inspector come to your university campus and do an inspection. Our certified fall protection team can often spot potential hazards that are not obvious, and can recommend effective safety equipment for workers and custom fall protection solutions for specific work areas.
You might also be interested in the following posts relating to the types of hazards discussed and the solutions we offer:
Guardrails for Rooftop Hatches, Skylights, and Roof Edges