Fall Protection Systems – 3 Critical Ways To Keep Factory Workers Safe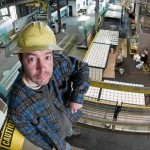 According to the Bureau of Labor Statistics, in 2012, there were 544 fall-related fatalities. Of those cases, about one in four occurred from a fall of 10 feet or fewer. This statistic suggests something rather stark: It doesn't take a whole lot of distance for a workplace accident to be fatal. As the person responsible for safety at your factory, you're likely aware of the gruesome statistics. But, are you fully informed of all the various ways that fall protection systems keep your personnel safe?
The following three examples of fall protection systems address potential workplace safety hazards – both from up high and down on the factory floor.
Safety Netting

When it comes to safety netting, people often assume that it's only used for fall protection and debris containment from an elevated work area. Today, however, netting has seemingly boundless applications. It is now commonly used in factories to contain rollers that blow out, objects that project from the factory line or to contain items in pallet-racking storage.
Roller Blowout/Flying Packages
With today's high-speed factory and distribution facilities, there is greater potential for rollers to blow out and objects to fly off the production line. Properly installed netting allows you to protect nearby workers in either of these scenarios.
Pallet Racking
Given that storage is at a premium these days, pallet racking has become a broader and more commonly used storage solution. This means objects dropping from the racking is a very real safety concern. Safety netting has become the go-to, cost-conscious, effective solution to safeguard pallet racking, as it keeps objects from dropping out of the racking and onto workers below.
As you develop a fall protection plan for your factory, have an expert conduct a site survey and assessment to identify every job site where safety netting would be beneficial.
Lifeline Systems
Depending on how your factory is configured, working at heights may be a real safety issue. Whether welding pipe at a height or removing a package from a stuck conveyer, if you're more than four feet off the ground, you are required to have system in place to protect you.
Lifeline systems are a good solution for fall protection at an elevation in a factory setting:
Horizontal cable lifeline systems– Installed along catwalks, gantries and other interior, elevated work surfaces, allowing workers to walk across surfaces safely and securely.
Fixed-track lifeline systems– Used in areas where workers must climb on top of large objects to paint, clean or install parts and are the "go to" solution for areas with low fall clearance.
Vertical lifeline systems– Installed to allow workers to remain tied off while climbing fixed ladders on the inside or outside of manufacturing and distribution centers.
For the best configuration of your lifeline systems, enlist the help of our installation experts. Ensuring that it's done properly means you don't have to worry about your workers being safe.
Guardrails
Guardrails serve as an effective fall protection system both on the factory floor and at heights.
Guardrails At Heights
An example of this would be a boat manufacturer who has a production line of boats. When not in use or if a boat is not parked in the berth, the platforms become a fall hazard. Guardrails help keep workers safe and prevent a fall during periods of downtime on the platforms. Also, safety gates within the rail allow access to the work area as needed when a boat is in place.
Guardrails On The Factory Floor
Guardrails may also be used to corral dangerous machines or an open pit on the factory floor. They only allow access to people who are alert to their surroundings and who use the proper access points and gates built within the guardrail.
Guardrails are a cost-effective solution, as you have the option to install either permanent or temporary rails. Non-penetrating guardrails don't pierce the surface, helping to maintain the integrity of your factory structures.
The number of fall-related fatalities is far too high, especially when you consider that 100% of those accidents may have been prevented with the right protection system in place.
Ready to learn more about installing the right fall protection system in your factory? Click the button below to speak with an expert at FallProof.