Fall Protection Training: 6 Tips To Ensure Worker Safety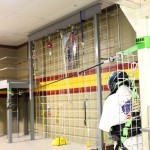 As a facility manager in charge of worker safety, you know that when you have employees working from elevated areas, fall protection is essential. The potential for an accident to result in a serious injury or even death is very real.
Comprehensive fall protection for your workers requires more than simply installing safety equipment at elevated work areas. Without the proper training to instill best practices, your employees remain at risk.
The following six tips illustrate why your fall protection system is only as good as the instruction your workers receive.
1. Training Starts With Recognition
Before a worker even leaves the ground, there should be an assessment done by a competent person – an individual who has the appropriate training and skills to see and identify the fall hazards in your facility.
Having a qualified person involved from the first stage of your implementation planning is crucial: this is when you identify every fall hazard and assess how to protect against them.
Food For Thought
Imagine having an untrained person, who's unable to recognize something like a skylight hazard on a roof. They may think a crew is safe up on the roof with perimeter guardrails, but they neglect the fact that the skylights must also be corralled. In the eyes of OSHA and the laws of physics, a skylight is nothing more than an open hole.
2. The Instructors Must Be Thoroughly Trained
Proper education and awareness of supervisors creates the foundation of a fall safety program. Supervisors instructing in-house employees on how to properly use fall arrest equipment must be thoroughly trained in all equipment operation.
The supervisor conducting the training must have complete working knowledge of fall protection principles, techniques and equipment usage. They must also be skilled at imparting their knowledge to your employees for the best results in execution.
Food For Thought
A facility might have the proper system in place, but a weak in-house leads to improper system connection, which could easily result in serious injury, or worse… a fatality.
3. Hands-On Beats Classroom Training
While classroom education is invaluable when it comes to understanding basic knowledge, regulation, theory and principles, nothing beats hands-on, site-specific experience.
Applying the information learned in a classroom to a real working environment is essential for arriving at a safe facility. Proper on-site fall protection training allows your employees to use the system in an environment they're familiar with, which enhances and enforces the learning experience.
Also, hands-on education helps your workers adapt properly as site conditions change. Physical dangers are presented in reality, not theory.
Food For Thought
Although a facility has a proper fall arrest system in place, workers could neglect to use a tag line to pull a self-retracting lifeline (SRL) lanyard down to them, and climb up to the elevated surface first to connect. This could potentially result in an injury-producing accident because the worker is not properly tied off at height. Hands-on experience would have detailed the proper technique to first bring the SRL lanyard down to the ground.
4. Proper Equipment Usage Is Paramount
Instruction on how to put on the "universal" full body harness is half the battle. Through training, users learn and understand how to properly employ the equipment for their particular application. Knowing the compatible and appropriate limitations for any system is necessary for safe operation.
Instructional experience with the same equipment that will be used on the job ensures your workers are confident in working with the system.
Food For Thought
Protecting your facility with a state-of-the-art system is only half the battle. You need to educate employees in the proper use of that system. For example: if a user neglects to use the right connecting device, it could result in serious injury in the event of a fall.
5. Equipment Inspection And Care
Authorized users of your system need to be trained on how to inspect and care for the equipment. Knowing when a piece of equipment is worn out is very important to keeping workers safe. Equipment should be inspected by the user before each use, and by a competent person at least annually.
The correct methodologies and techniques must be understood in order to properly inspect, care for (and know when to discard) equipment.
Food For Thought
If an under-educated user does not inspect their harness properly, the harness could fail and result in a serious injury or fatality.
6. Training must include Rescue Training
Rescue training is an often-overlooked element of comprehensive training. Although fall protection equipment saves lives, the "after fall" rescue plan is also essential.
When someone is dangling in their harness, you don't want everyone scrambling in an uncoordinated manner, wasting precious time. Proper training, practice and execution of a rescue plan is a critical part of fall protection instruction. After all, what good is a system that's activated and used properly if the victim has to suffer through prolonged hanging and suspension trauma?
Food For Thought 
In the case of a rescue, it's clear that the investment in fall protection equipment and education paid off in saving someone's life. However, suspension trauma is a real concern and if someone is hanging long enough, it may cause long-term injury up to and including death.
If you're considering implementing or improving a fall protection system within your facility, without the right training your workers remain at risk of potentially fatal fall hazards.
With our team on your side, you get necessary insight into every risk and the right solutions that safeguard every elevated work situation.
Ready to learn more about fall protection training for your facility? Click on the button below.