FallProof Has A New Website With You In Mind!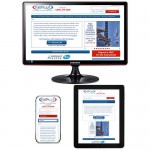 In addition to FallProof working hard to make America's workplaces safer with installations of fall protection systems, we have been busy redesigning our website to serve you better! New features include:
Improved and refined navigation;
Responsive to all device sizes;
Contact and request a quote forms with document upload;
One-click calling by mouse, Skype or phone app;
Internal site search;
New sidebar menus;
Blog posts by topic; and
Patriotic color scheme.
We are interested in your your feedback, so feel free to offer your comments. Coming soon will be more about information about recent projects we have been working on, such as the installation of fall arrest systems — from horizontal and vertical lifelines, to fixed and rigid track lifelines and davit arms and swing and jib arms.
Our 15,000-square foot warehouse also has been brimming with activity while providing clients nationwide with short-term rentals of all sorts of equipment for temporary construction projects, and our engineers have been busy with design and engineering projects for custom solutions as well.
Whether you need rooftop guardrails or skylight railings and screens, or personnel safety netting for a conveyor belt or in, under and around a bridge during repair and rehabilitation, we have you covered! If you would like a free on-site assessment, give us a call. In the meantime, we hope you will enjoy browsing our new site, and sharing it with your colleagues.