Leading Edge Fall Protection Equipment and Uses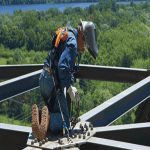 In this blog we will discuss leading edges and the new self-retracting lifeline issued for leading edges.  What constitutes a leading edge, how the fall protection system and equipment is used as well as understanding OSHA and ANSI standards for leading edges can be difficult and confusing for employers and employees.  Part of the confusion stems from the different definitions OSHA and ANSI have for leading edges as well as the PFAS used by the worker to protect them from the leading edge.
Leading Edge Fall Protection Regulations
ANSI A10.32-2012
A leading edge means the unprotected side or edge during periods when it is actively or continuously under construction.
OSHA 1926.751
Leading edge means the unprotected side and edge of a floor, roof, or formwork for a floor or other walking/working surface (such as deck) which changes location as additional floor, roof, decking or formwork sections are placed, formed or constructed.
Leading Edge Anchor Points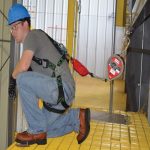 Ideally, in leading edge work, the anchor point will be above the worker, however most of the time this application is not possible because of where the work is being performed. To visualize a leading-edge situation, picture a worker installing decking substrate on a new building. Now imagine the worker's fall protection system is anchored at foot level behind him. As the worker moves out and away from the anchor point while installing the decking, the worker is exposed to a potential fall over the edge of the building or the edge of an elevated platform.
In most cases leading edge work requires an anchor point at the foot level and this requires a specific SRL needs to be used.  Leading edge work occurs when a worker uses a fall protection system anchored at foot level behind him and then moves away from the anchor point, exposing the worker to a potential fall over the edge of the surface being worked on. New self-retracting lifelines are now available to protect workers from leading edge work.
Leading Edge Self Retracting Lifeline Equipment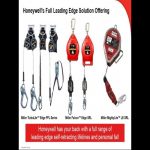 A leading edge SRL is a self-retracting lifeline manufactured specifically to meet the ANSI Z359.14 standard. This standard calls for specific accommodations for leading edge applications and foot-level fall events. In order to meet this standard, a leading edge SRL will be made of stronger cable, will feature more wear-resistant components, and it will include robust energy absorbing technology integrated into the lifeline. The Miller Leading Edge Self Retracting Lifelines on the right, for example have been constructed of such materials. It has also been extensively tested in sharp-edge, leading edge, and foot-level applications.
It is all too common that fall protection applications that require a leading-edge self-retracting lifeline are using the wrong equipment. Understanding the work, you are performing and where you are performing the work as well using the right equipment can ultimately save your life.