Netting and Fall Protection Installations by FallProof – July 2014
Railroad Bridge Netting Installation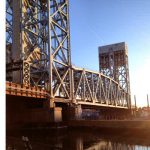 FallProof recently completed the last phase of a four-phase railroad bridge netting project for a major public transportation company in the State of New York. This particular project involved the netting of a 440-foot long lift bridge that spans mostly water. This involved the unique challenge of completing the entire project from a barge. We installed personnel-rated netting underneath the span, thus, providing an OSHA-compliant solution for fall protection, eliminating the need for workers to tie off while conducting maintenance and track replacement. The netting also served the two-fold purpose of debris collection. As part of the project we cleaned and inspected the existing nets.
Roof Edge Guardrail Installation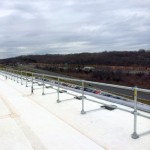 We recently completed the installation of 3000 linear feet of guardrails for a major Fortune 500 technology and electronics company. This guardrail was non-penetrating in nature and required that no holes be made on the existing roof. We worked with a local distributor for the guardrail product on both the layout and logistics of this massive operation. By pre-assembling the guardrails in our warehouse, we were able to minimize disruption to the customer's business and complete the installation in four days, less than half the time that would have been required for a complete assembly and installation at the customer's premises. Special care had to be taken not to damage the rubber coating on the roof, which necessitated adding additional rubber matting to the guardrail to satisfy the customer's roof warranty provider, i.e., in order to not void the 25-year roof warranty that is in place.
Fall Protection Lifeline Installation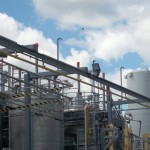 On another project we recently completed the installation of a 175 foot lifeline for a global cosmetics manufacturer. The installation was done to protect workers at the manufacturing facility's tank farm used to store bulk fragrances and alcohol. As required by an engineering study performed by our engineer prior to installation, we reinforced the structural steel of the building to support the stress on the structure that would be generated in the event of a worker falling.
Fall Protection Inspection Services
The company recently conducted a large inspection for a Fortune 500 food manufacturer. For the inspection, we were tasked with the inspection of 80 single point anchors, 50 harnesses, 2 rigid track systems and 2 railcar fall protection systems. In addition, we inspected numerous other soft goods and hard goods such as SRLs and lanyards. All of these visual inspections were completed within a days' time for minimal interruption to plant operations. FallProof used our state of the art RFID tags and cloud based inspection software to ensure accurate records were kept and equipment properly identified for follow up yearly inspections.