OSHA Regulations vs. ANSI Standards – What's The Difference?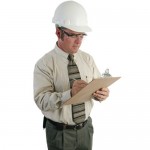 As a facility manager in charge of worker safety on elevated job sites, it's important to understand the differences between OSHA regulations and ANSI standards when developing your fall protection program.
By understanding these differences, you are better able to:
Avoid stringent fines for non-compliance;
Reduce fall hazards and related accidents;
Improve worker safety and productivity; and
Decrease lofty workers' compensation claims.
Adhering to OSHA regulations while also applying ANSI standards is a great way to achieve a fall protection program that protects your employees working from heights while also protecting your company's bottom line.
What Is OSHA's Mission?
OSHA was created by Congress to set and enforce standards that ensure a safe and healthy working environment for men and women. This is achieved through training, outreach, education, and compliance assistance. Per OSHA regulations, employers are responsible for providing a safe workplace for their employees.
Employer Rights And Responsibilities:
According to OSHA regulations, employers must:
Provide a safe workplace that does not have serious hazards;
Follow all safety and health standards;
Identify and correct workplace safety and health issues; and
Attempt to eliminate or reduce hazards by making changes in working conditions, rather than relying on personal protective equipment.
Rights and responsibilities, rules and regulations: None of this truly matters if OSHA doesn't enforce its laws. Regulation enforcement plays an important role in reducing workplace injuries, illnesses and fatalities. When employers fail to uphold safety and health responsibilities, strong, decisive action is taken that commonly results in heavy fines.
OSHA inspections are initiated without advanced notice. These inspections are conducted using on-site or telephone and fax investigations, performed by highly-trained compliance officers and scheduled based on the following priorities:
Imminent dangers;
Catastrophes (fatalities or hospitalizations);
Worker complaints and referrals of particular hazards;
High injury rates; and
Follow-up inspections.
Employees Also Are Protected Under OSHA Regulations
Current workers or representatives may file a written complaint and ask that their workplace be inspected if they believe there is a serious hazard or their employer is not in compliance with OSHA regulations.
Workers have the right to ask for an inspection without having the source of the complaint revealed to the employer. It is a violation of the OSHA Act for an employer to fire, demote, transfer, or discriminate against a worker for filing a complaint or demonstrating other rights.
OSHA may issue citations and fines for violations or serious hazards. A citation includes methods for fixing the problem and a date by which corrective action must be completed.
What Is ANSI's Mission?
ANSI is the voice of the U.S. standards and conformity assessment system. Their mission is to strengthen the U.S. marketplace position in the global economy while also ensuring the safety and health of consumers and protection of the environment. They achieve this by overseeing the creation, declaration and use of thousands of norms and guidelines that directly impact businesses in nearly every sector, from acoustical devices to construction equipment, from dairy and livestock to energy distribution, and many more.
ANSI standards achieve conformity as the organization actively engages in accrediting programs that assess conformance to their standards.
ANSI Standards For Fall Protection
The main objective of ANSI guidelines for fall protection is to tie elements of many ANSI standards together and provide tools with which employers may develop robust fall protection programs.
The ANSI standards committee established the need for uniform guidelines for fall protection programs. The standard in its present form provides the minimum criteria necessary to develop and implement a comprehensive fall safety solution. Hazard elimination and control, hazard surveys, education and training are all basic fall safety principles that have been incorporated into ANSI standards.
Under ANSI Standards Design Is Critical To Fall Protection
The ANSI standards committee acknowledges the critical role of design in influencing selection of the proper equipment. Designs that eliminate fall hazards through the proper application of safety controls are the preferred method.
Examples of design deficiencies that increase risks for employees:
Incorrect calculation of fall clearances
Failure to provide engineered anchorages
No provision for safe access to elevated work areas
Installation of machines or equipment at heights rather than floor or ground level
OSHA Versus ANSI: What's The Biggest Difference?
When it comes to developing your fall protection program, adhering to OSHA regulations is critical, not only to the safety of your workers, but also to staying compliant. If your equipment isn't compliant, you may face large fines.
If you don't follow ANSI standards, on the other hand, you won't get fined. But, there are a few ways in which these standards go above and beyond OSHA regulations to protect employees.
By implementing ANSI standards for fall protection, you are doing everything possible to keep your workers safe while protecting yourself from fines and insurance claims – those with the power to wreck your profits.
Ready to learn more about OSHA regulations and ANSI standards to create the best fall protection program for your facility? Call us today.