Recent FallProof Projects – May 2015
Large Horizontal Perimeter Personnel Safety Net System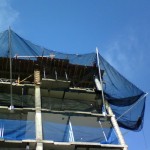 FallProof recently partnered with a large general contractor to provide a personnel safety net system for a high rise construction project in Long Island City, NY. The building was intricately designed, with many levels and tiers, which created multiple attachment points for the safety netting outrigger poles. As a result, the safety netting needed to be installed in different configurations on different floors of the building. 
Working closely with the contractor's foreman, and with our third-party engineer, our netting experts designed a custom solution, and provided the materials for a complete turnkey netting system. We supplied engineered drawings that identified 150+ attachment points at various levels of the building, and supplied 100+ slabgrabber clamps, 50+ bolt-down clamps, and 150+ outrigger poles. In addition, we supplied 1500+ linear feet of personnel safety and debris netting. One of our on-site technicians was available on an as-needed basis, to train and work with the contractor's employees to ensure that installation of the netting system was done properly as per the specifications in the drawings.
Motorized Fall Protection Swing Jib Installation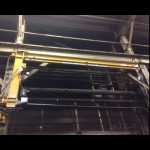 As a repeat customer, this major U.S.-based industrial manufacturer contracted with us again to install four, 16′ swing jibs. Each of the four motorized units operated independently, and featured a remote-controlled pendent. The units were rated for one user each, and were installed at two different loading bays to allow shippers to strap products onto flatbed trucks while tied off. We designed, engineered, and installed the system from start to finish, providing a turnkey fall protection system for the workers at this facility.
Lifeline Equipment Inspection
After completing a fall arrest lifeline installation for a major Midwestern university, we were invited back to inspect a number of existing fall protection systems already in place on the university campus. We conducted the inspection of 6 rooftop lifelines and 26 single-point tie-off posts on a timely basis. Upon completion, we provided full inspection certificates to the client for their records.