Rooftop Fall Protection: The Absence of Skylight Railings Around A Skylight Dome Is The Equivalent of A Hole In The Roof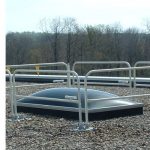 Skylight railings and screens save lives. If your workers are required to work on a roof and are exposed to an unprotected skylight without a guardrail around it or a screen over it, it is, according to OSHA, the equivalent of exposing them to a hole in the roof. OSHA has recorded 47 fatalities from skylight fall-throughs since 2010, with the most recent occurring last month in California. OSHA noted that over the past six years, the fall-throughs arose from a variety of worker behaviors while on, over and around skylights, such as:
eating lunch while sitting on the dome, which was not designed to support the weight, causing a fall backward;
straddling the dome, one leg on each side of the frame, losing his balance, and falling through;
clearing deep snow on a roof where it accumulated over the skylight lens, and unaware it was there, fell through the lens to the concrete floor below;
installing HVAC equipment on the roof and while carrying a valve in his hand, lost his balance when a rented scissor lift he was on suddenly moved forward, causing him to fall through;
standing on a ladder while not wearing a full-body harness, reached backward to hand a tool to a co-worker, and fell backward onto and through the glass;
walking backward while performing HVAC maintenance on the roof, tripped over the base and fell through the dome;
taking a break and leaning backward against the lens, which could not support the weight, resulting in a fall-through;
working on new construction where smoke-vent skylight openings were exposed, backed into the unprotected hole and fell to the concrete floor below; and
walking backward while talking to a co-worker and, without looking where he was going, tripping backward and fell through the glass.
The following are the year-over-year statistics:
2016 – 3
2015 – 7
2014 – 4
2013 – 7
2012 – 14
2011 – 6
2010 – 6
In each case, the employee's death was completely preventable. Although in many cases OSHA determined that both the employer and worker shared responsibility, only employers were fined for non-compliance. The workers paid with their lives.
---
The Key To Preventing Serious Injury Or Death Is Employer Awareness and Compliance, and Employee Training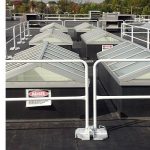 Like all forms of fall protection, preventing employee injury or death relies on employer awareness and compliance, and employee training. If you are an employer or EHS Manager:
Review OSHA regulation 1919.23(a)(4), which states, "Every skylight floor opening and hole shall be guarded by a standard skylight screen or a fixed standard railing on all exposed sides.";
Examine rooftoops for fall hazards as they apply to skylights — again, keeping in mind that they are considered by OSHA to be a hole in the roof;
Determine what corrective measures can, should and will be taken to protect employees from existing fall hazards (FallProof can help you with this, and in most cases, we will provide a free on-site assessment);
Develop a fall protection plan that outlines what preventive measures will be taken (FallProof can help you with this as well);
Do not permit your workers or those of subcontractors on the roof until such preventive measures in the form of skylight railings or screens have been installed;
Post a "Danger" sign alerting employees of the imminent threat to their safety when near or around skylights and/or while working on ladders, and make the sign large enough to be readable (we all know about the pitfalls of fine print!);
After the screens and railings have been installed, conduct daily safety meetings WHENEVER PERSONNEL WILL BE WORKING ON THE ROOF, and include the reminders about rooftop fall protection in them (FallProof has managed the installation on dozens of these systems);
Have all new hires sign an acknowledgement letter that they are aware of their new work environment, and encourage them to practice good safety practices (include language that the barriers are in place for a reason, and they should not sit, stand or lean against an existing skylight, and that they are required to wear OSHA-compliant fall restraint equipment when on the roof); and
Schedule Awareness training for all new hires (FallProof has a state-of-the-art training center; and, depending on group size, we also can conduct training on your premises).
---
Create Fixed Barriers To Account For Poor or Lapsed Worker Judgment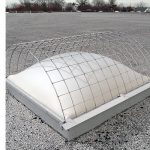 By installing the appropriate barriers around and over skylights, your company will be taking the necessary steps to be in compliance with OSHA regulations while also accounting for the unexpected when employees are working on a roof.
Absent the required barriers – particularly, during new construction – poor judgment or a lapse in judgment can occur, wherein workers are not thinking about their own safety. This might be when they feel pressured to complete a job hurriedly, or when the weather is too hot or too cold and they want to get through the work as quickly as possible. The same is true for subcontractor employees. Importantly, the railings and screens (covers) are designed to protect the light itself, so planning ahead for unforeseen circumstances will serve you and your employees well.
FallProof's installations of appropriate solutions around skylights can be modular and non-penetrating, and if a custom configuration is needed, we provide design and engineering services, not only for the railings, but for safety covers over a dome as well, during which we will test the integrity of the structural elements and also can provide custom mounting brackets. Give us a call today by clicking on the blue button below, or by dialing us at 1-(855) 279-2000.