Transportation and Trucking Fall Protection: Implementing It Effectively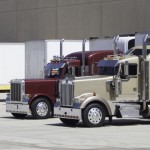 Whether you're talking about tankers, flatbeds, or open or enclosed trailers, the business of loading and unloading, or servicing large vehicles can present a fall hazard. Working on loading docks, on scaffolding above or beside the trucks, or on the roof or sides of the trucks themselves, workers put themselves at risk in multiple situations where they are in danger of falling.
Open hatches are one of the most common hazards. A venting hatch that is left open during use on top of a vehicle provides an opportunity for a worker to step through it or trip into the opening. Workers who climb on top of a tanker trailer require a lifeline or other fall protection system, as hoses or swing/swivel spouts used to load liquids or chemicals may be a hazard that results in a fall. Also, workers who need to secure loads on a flatbed, or who need to tarp down loads on a gondola or hopper trailer, are often working on uneven surfaces, and tie-down straps may pose a fall hazard.
Permanent Fall Protection Systems
Designing a fall protection solution for loading/unloading and load spotting is somewhat tricky. In most cases, workers are working on an elevated surface with a very low clearance (i.e. between four and twenty feet). The solution must be able to almost instantly arrest the worker's descent, before they hit the ground.
There are two categories of fall arrest systems for trucking facilities – permanent lifelines and portable lifeline or guardrail systems. For many work environments, permanent fall arrest systems are more practical, because they only need to be installed once.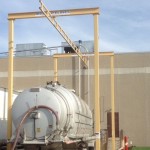 One common permanent system for trucking facilities is an overhead rigid track system. This is best used in a facility where the vehicles drive in and out of the same space throughout the day, i.e. a loading lane area where tanker or gondola trucks drive in and out underneath the loading apparatus. An overhead rigid track lifeline can be installed over the lanes, so that workers can move easily back and forth over the tops or sides as needed, with their self retracting lifelines attached to the overhead track.
This kind of permanent fixed track lifeline system can be installed outdoors on a T-shaped or L-shaped frame, as seen below. FallProof recently installed the following rigid track lifeline system for Arm & Hammer.
It can also be installed in an indoor facility, where the rigid track lifeline can be hung from the ceiling over the work area, or permanently fixed to a wall next to the work area.
Portable Solutions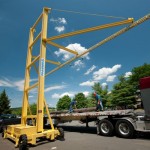 Portable lifeline systems are best used in facilities where there is no fixed work area, such as maintenance or painting facilities, or loading docks where the workers must move around from truck to truck in order to service them. In each case, the portable fall arrest system must be moved and set up next to or on the vehicle itself.
There are a variety of portable systems that are suitable for the trucking industry. For example, there are portable lifeline systems such as the Griffin (below), where the rigid track that secures the lifeline is mounted on an H-frame.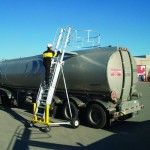 There are portable cages that can be wheeled around and used when working on a particular hatch on a tanker truck.
And there are portable lifeline systems that can utilize the weight of a truck to create an anchorage point to meeting OSHA requirements.
OSHA Standards for Working on Trucks
While there are no OSHA standards designed specifically for the trucking industry, OSHA uses the General Industry clause as it relates to trucking:
OSHA Regulation 29 CFR 1910.23(c) – (General Industry): Every open-sided floor or platform 4 feet above an adjacent floor or ground level shall be guarded by a standard railing on all open sides except where there is entrance to a ramp, stairway or fixed ladder."