Steel Mill Fall Protection: Exploring Different Solutions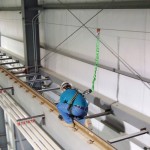 From a facilities standpoint, you can apply all types of fall protection systems to the steel industry. Workers in steel mills are often required to use fall protection equipment, for personal safety and for OSHA regulation compliance.
The types of fall protection solutions installed in steel mills are usually based on several factors, including the layout and conditions of the environment, the number of personnel accessing a certain area, the frequency of activity in that area, and the budget concerns of the steel mill's owners.
Some of the more common solutions used in steel mills include:
Horizontal Lifeline Systems
In areas where a gantry crane or other overhead crane moves on rails across the ceiling, there is usually a crane runway – a long platform or catwalk that runs along one side of the crane's overhead rails. A horizontal lifeline can be attached to an adjacent column support, so maintenance personnel can walk safely along the crane runway when they need to service or repair the crane.
Fixed-Track Lifeline Systems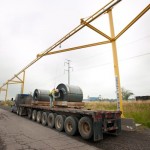 Fixed-track lifeline systems can be set up in truck loading and unloading areas, and in train washing facilities, where goods are being brought in and shipped out. The fixed-track lifeline allows workers to climb on top of truck trailers or train cars as they load, unload, or service them.
Swing-arm Jib Lifelines
A swing-arm jib lifeline performs like a fixed-track lifeline system, except the fixed track is attached to the underside of the swing-arm jib itself, instead of being mounted between two jibs. The swing-arm jib can be attached to a wall or a steel column over a boiler, chemical vat, or other equipment.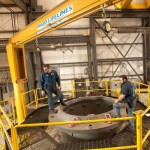 When the worker climbs on top of the equipment to service it, the swing-arm jib can be extended out from the wall, allowing the worker to walk on the equipment while their self-retracting lifeline (SRL) follows them, moving along the trolley on the fixed track attached to the jib above them.
Single-Point Anchors
Single-point anchors can be attached to a fixed surface, such as a ceiling beam or catwalk, above a boiler or vat. When a worker climbs on top of the boiler or vat to do maintenance or cleaning, an SRL attached to the anchor point can be used as a tether to keep the worker from falling in or off the work surface.
Practical Fall Protection Solutions
Even in steel mills, some of the more common types of areas may require fall protection solutions. For example:
Horizontal lifelines or single point anchors can be installed on exterior rooftops that require regular inspection and maintenance.
Vertical lifelines should be installed alongside indoor or outdoor fixed wall ladders.
Guardrails should be installed on unprotected rooftop edges, balconies, catwalks, open staircases, and any ledge with a drop-off of more than four feet.
Fall Safety Equipment and the Steel Mill Environment
As we explained in a previous article, the elements of a corrosive environment can reduce the effectiveness of fall protection equipment, especially SRLs. Over time, the constant high heat in a steel mill will wear down the material in an SRL lanyard, as will any edges or machinery that the lanyard continuously rubs against.
Your SRLs and other fall protection equipment should be inspected frequently, and replaced if they show signs of wear. SRLs with stainless steel and galvanized steel cables will last longer in a steel mill environment than SRLs with cables made of synthetic webbing.
However, there are a few situations where it's advisable to use a synthetic webbing SRL in a steel mill. For example, if workers will be working in close proximity to high voltage equipment, or equipment that gives off electric sparks, they should use a synthetic SRL and an arc-flash safety harness.
A steel cable SRL can put the worker in danger of electrocution if it accidentally touches an electrical bus, or if a spark hits the steel cable. But an SRL or lanyard with a synthetic web cable will not conduct electricity, and is still relatively safe to use in this type of work environment.