The Fall Protection Experts Are Taking Your Questions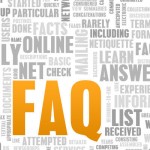 FallProof Systems is excited to announce that it started 2016 by further expanding its website with the addition of a new section dedicated solely to everyday users of fall protection equipment, and existing customers and their workers. This includes an "ask the experts" form and dedicated question and answer pages organized by industry, known as "Frequently Asked Questions" on many websites.
The new form will allow site visitors to ask our fall protection experts any question related to fall protection, guardrails, safety and debris netting, training, etc.
Questions posted and our replies can be found in the "Frequently Asked Questions" section, which is the "main" page. You can ask your own question, and our experts will post a reply for the benefit of all site visitors.
Our new FAQs section allows visitors to interact with FallProof by providing a means to facilitate discussion about current concerns relating to systems and equipment and safety netting. If you are simply researching a particular topic in relation to a real-world concern in your workplace and not ready to initiate a call to us, this new section of our website incorporates information based on our many years of on-the-job and installation experience.
By collecting questions from real visitors about genuine concerns, we believe this approach will broaden the depth and intricacies of the questions and our answers. In turn, we hope it will allow future site visitors to develop a breadth of understanding about fall protection and its applications in the everyday workplace that they otherwise would not have.
The backbone of the community-based FAQs pages will be the question submission page (form), on which we will collect basic details from you to facilitate and formulate our reply. Please be as detailed as possible when submitting your question. This will allow us to be thorough and comprehensive and to ensure accurate and useful answers. Please note that only your first name and your industry will be revealed on the answer page, and any and all other information provided by you (such as your last name) will be kept confidential and not disclosed to anyone.
The Frequently Asked Questions "main" page will display all questions and answers and will replicate our Blog in look and feel, allowing for one large central database of questions sorted by industry. Each question will have a headline/topic with a short intro summary and headline text. When clicked, the visitor will be brought to a particular question's dedicated page. On this page, the visitor will find a more detailed and in-depth answer generated by FallProof's experts. Once a question has been answered by our team (usually within 72 business hours), the person posing it will be notified by email to return to this page to view our response.
We hope these latest additions to our site will prove to be a valuable resource to anyone looking for more information in their quest to correctly employ fall protection equipment, regardless of industry. Above all else, FallProof is passionate about its worker-first philosophy and ensuring that everyone receives accurate information, regardless of who handles the installation or certifies or engineers the system. After all, safety is our number one priority and the main driver behind the creation of these new pages.
Please note that our FAQs pages are informational in nature and should not be relied upon in lieu of proper training.  If you have a question not covered, please contact us by phone.